Authorities Study Pile of Tate Case Clothing
Tuesday, December 16th, 1969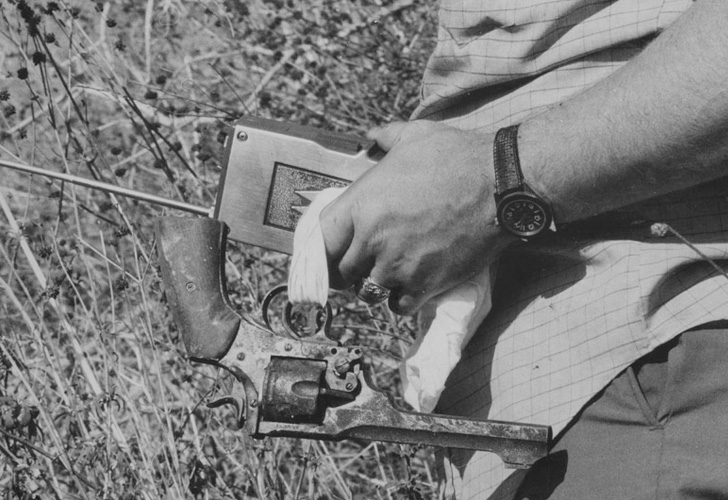 LOS ANGELES, Dec. 16 – Authorities conduct tests today on seven articles of clothing believed stained with blood that were discovered near the Benedict Canyon estate where actress Sharon Tate and four other persons were slain.
Three black t-shirts, one white t-shirt and three pairs of blue jeans were found by a television news crew Monday and turned over to police.
A spokesman for KABC-TV said the clothing was stained with what appeared to be blood. Detectives would not comment on the discovery of the clothing but said tests would be run.
Two dozen officers accompanied by Susan Atkins, 21, a suspect-turned-informer in the Tate slayings and the killings of Leno LaBianca and his wife, conducted a search in the nearby Hollywood Hills over the weekend. It was believed they were looking for the discarded clothing worn by the killers involved in the Tate massacre.
Miss Atkins, who was not granted immunity, pleaded innocent today to seven counts of murder. Her trial was set for Feb. 9.
Miss Atkins, a member of "The Manson Family" cult implicated in the seven slayings, has told authorities the killers were dressed in black when they invaded the home and discarded the blood-stained clothing after the murders.
The weekend search, which included 80 Explorer Scouts, produced only a rusty revolver. It was not believed to be the one used in the Tate killings.
In other developments in the case, detectives from five California cities and counties met with Los Angeles police to check out possible links between the Tate-LaBianca slayings and other killings.
Investigators declined to say which specific cases were under discussion. Among the unsolved slayings in the state were the "Zodiac" killings in the San Francisco Bay area and the deaths of two teenage girls in San Jose. Two of the visiting detectives were from San Jose, and one each from San Francisco, Napa and Mendocino Counties.
Six members of the tribe, including Miss Atkins, have been charged in the Tate and LaBianca slayings. The nomadic commune, formed in San Francisco's Haight Ashbury district, roamed through California both before and after the murders.