Chained Escapist Arraigned
Saturday, October 23rd, 1971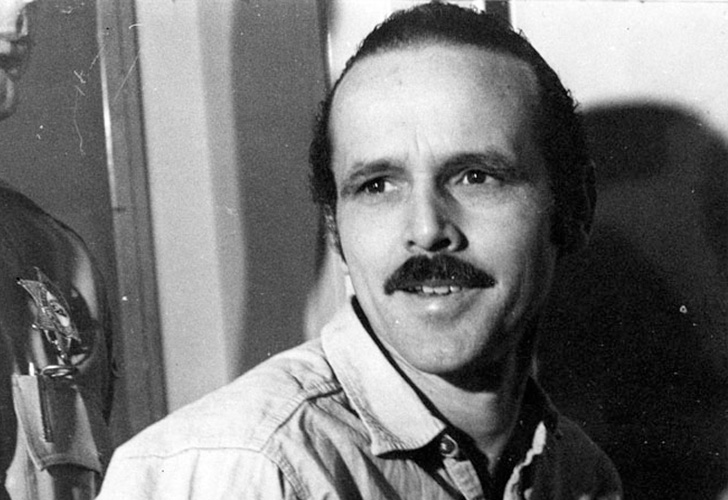 Kenneth Como, after arraignment on escape charge
LOS ANGELES, Oct. 23 — Chained hand and foot, Kenneth "Curly" Como, a member of Charles Manson's hippie-style "family," was arraigned Friday on felony escape charges stemming from his daring jailbreak last Wednesday.
Another Manson follower, Sandra Good, 27, was arraigned on charges of aiding and abetting Como's escape. Authorities claim that she drove the van in which Como fled from the Hall of Justice after escaping his cell.
Municipal Judge Nancy B. Watson ordered Como, 31, held without bail and set bail at $5,000 for Miss Good. A preliminary hearing was scheduled for Nov. 8.
Both defendants were represented by court-appointed counsel, and the attorney named to defend Miss Good was Paul J. Fitzgerald, chief defense attorney in the Sharon Tate murder trial. He represented Patricia Krenwinkel, one of three women convicted with Manson and sentenced to death for the Tate slayings.
While Fitzgerald was arguing for Miss Good's release, Como interrupted and told the judge:
"You should give her a medal for performing a community service."
Earlier, five more Manson followers arrested after Como's escape were released when the sheriff's department said there was insufficient evidence to prosecute them.
They had been arrested at a Los Angeles home hours after Como sawed his way out of his 13th floor cell, wriggled down the side of the building on a rope fashioned from strips of his mattress cover, kicked in a window and walked out of the building.
He remained free seven hours before being caught hiding in a backyard shed.
Authorities said it was Como's sixth escape in a criminal career dating back to 1954. The 5-foot-7, 135-pound Como, described as a recent convert to the Manson tribe, was apprehended with some other clan members during a Shootout at a Hawthorne surplus store in August. He was awaiting trial on charges in connection with that case when he made his brief escape.