Follower of Manson Recaptured; 6 Seized
Thursday, October 21st, 1971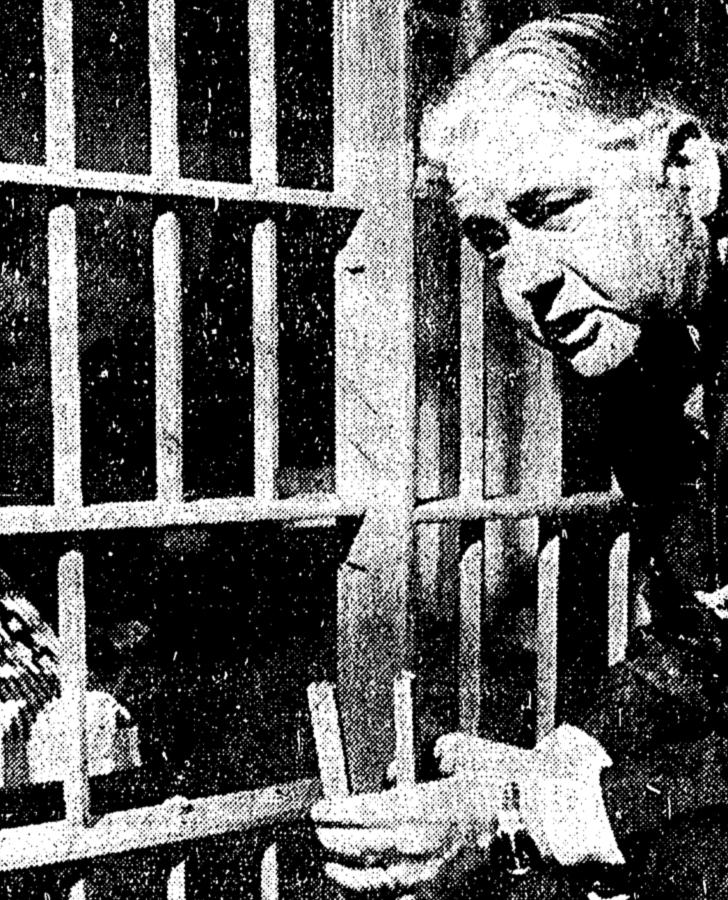 Undersheriff William McCloud shows bars Como cut
LOS ANGELES, Oct. 21 — A follower of Charles Manson escaped from a maximum security cell yesterday by squeezing through a 6 1/2 – inch opening and dangling on a rope of blankets from the 13th floor of the same building where Manson is held.
Kenneth Como, 31, was captured six hours later in a shed in a Hollywood residential area. A small army of police searched door-to-door while a helicopter illuminated the scene with searchlights.
The breakout led to the arrest of six other Manson "family" members.
Como was being held on charges of attempted murder following a shootout with deputies in September at a surplus store where the "family" allegedly was attempting to steal more than a 100 guns in a plot to free the convicted Tate-LaBianca murderer.
Como, who had staged a similar escape from the ninth floor of a nearby building in July with the same rag rope technique, was being held in an isolated cell on the 13th floor of the Hall of Justice. Manson is confined three floors below for a second trial.
Embarrassed officers showed newsmen how Como had used a Carborundum saw attached to a razor handle to cut through 2-inch bars and then slightly enlarge a slot used to pass food trays through to prisoners.
The escape occurred sometime from 2:15 a.m. when Como was last checked to 3:15 a.m. when his cell was found empty. The opening in the cell was about a foot square but the food slot was only 6 1/2 inches high and 15 inches across. Como is 5 foot 7 and weighs 140.
Once out in a corridor, Como pulled up a wire mesh screen on a window and climbed through another foot-square opening, then lowered himself to a ledge on the 10th floor, using a 35-foot rope made of seven mattress covers and blankets.
He then lowered himself from the ledge to the eighth floor, where he kicked in a window and jumped into a courtroom.
Security Guards go to eat about 3 a.m. and Undersheriff William McCloud said Como might have walked out in the group unchallenged.
Less than half an hour later, a deputy saw a white van Manson's girls have used to camp in while holding vigil for months at the Hall of Justice near a "family" apartment in Hollywood.
Como leaped from the van and disappeared in the shrubbery. In the van, the officer seized Sandra Goode, 36, one of the girls who carved an "X" in her forehead with a knife and shaved her head in gestures of loyalty to Manson.
Police knocked on doors and awakened residents in a three-block area near Sunset Boulevard before Como was found hiding behind some boards in a tool shed about 10 a.m.
He was unarmed and put up no resistance.
Arrested at another "family" hangout on charges of being accomplices in aiding and abetting the escape were Lynne Fromme, Kitty Lutesinger, Sue Bartlett, Nancy Pitman and Richard Stauser.
Manson is near the end of a second trial for two other murders. Charles "Tex" Watson is in the penalty phase of his trial for the Tate-LaBianca murders and half a dozen other "family" members are in custody on various other charges.
McCloud said it was obvious the saw had been smuggled in to Como from the outside. He said he might have been sawing on the bars for days.