Hills Combed for Tate Evidence; Girl Is Along
Monday, December 15th, 1969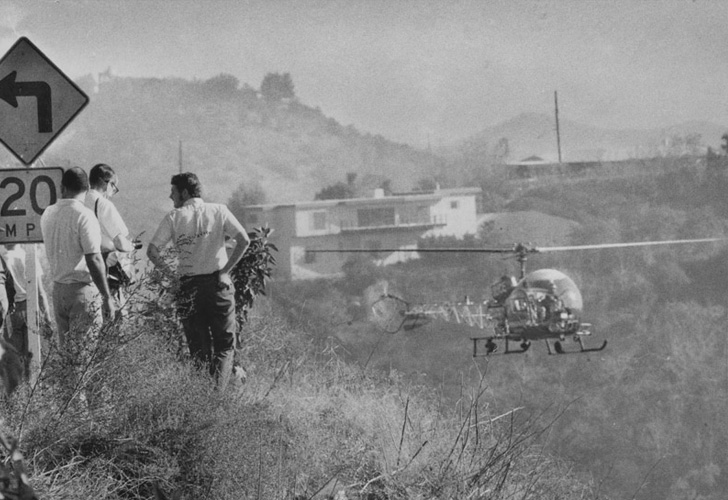 LOS ANGELES, Dec. 15 – A police helicopter hovered over the Hollywood Hills while ground crews worked below Sunday in a six-hour search presumably to find the bloody clothes worn by the killers of actress Sharon Tate and four other persons last Aug. 9.
The informer in the case, Susan Denise Atkins, was taken to the search area by police.
Lt. Robert Helder of the Los Angeles Police Department was in the helicopter making shuttle trips over the area being combed by the ground searchers.
Police detectives and 80 volunteer Explorer Scouts searched the rugged gullies along Mulholland Drive a few miles from the Tate house.
The ground searchers discovered a rusty .38-caliber pistol but it was not known if the weapon had any connection with the case.
Hippie cult leader Charles Manson, 35, who is accused of masterminding the slayings, was being held in an isolated cell under maximum security precautions.
Miss Atkins has said a group of which she was a member killed Miss Tate and four others but didn't know who the victims were until they heard news accounts the next day.
Her comments appeared in a story in the Los Angeles Times. It carried her byline and a copyright by her and Lawrence Schiller. Schiller said he and another journalist, whom he did not name, edited tapes of conversation in jail with Miss Atkins to produce the article.
In the 6,000-word story Miss Atkins says she first learned the victims' names from a television newscast the day after they were killed.
"We watched the newscast, and it kind of — it really helped me to know that the people were as important as they were," the article said. "It blew my mind."
"It just happened to have been Sharon Tate, a movie actress, and it happened to have made nationwide and worldwide news which we had no knowledge that that's what it would do."
Miss Atkins said through her lawyer during recent Grand Jury hearings that she was persuaded to join the group by the hypnotic power of Manson, leader of a wandering hippie-style group that numbered up to 30.