Manson and Girls Doomed; Lawyer Says It's For Real
Tuesday, April 20th, 1971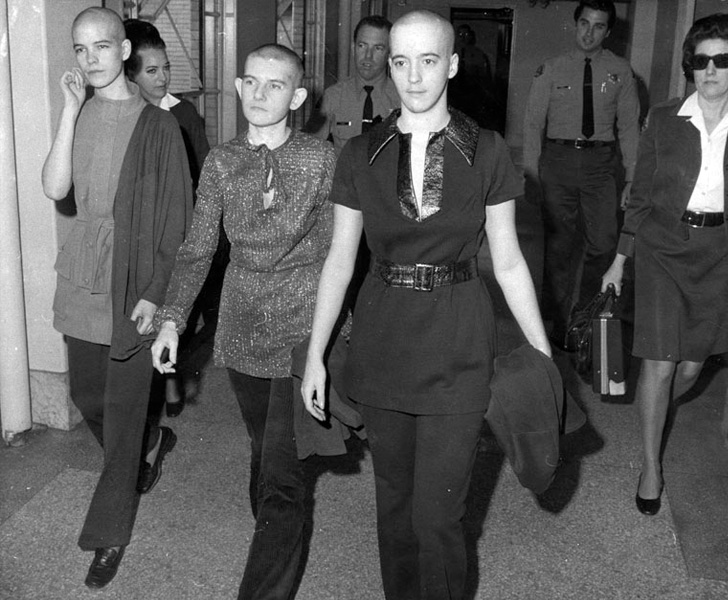 HEADS SHAVEN like their leader, Charles Manson, his three doomed woman followers march through a corridor outside the courtroom where they were sentenced to death. From left, Leslie Van Houten, Patricia Krenwinkel, Susan Atkins
LOS ANGELES, Apr. 20 — A judge has formally sentenced Charles Manson and three women followers to die in the gas chamber for the Sharon Tate murders, and the chief defense attorney says the sentences are likely to be carried out.
Paul Fitzgerald, who argued Monday for reduction of the penalty on grounds that jurors were swayed by the current moratorium on executions, said it is invalid to assume that legalities will save the four from death.
There has not been an execution in the United States since 1967. State courts are waiting for a ruling from the U.S. Supreme Court on whether the death penalty is constitutional.
"Many legal observers feel that this Supreme Court will affirm the death penalty," Fitzgerald told newsmen. If that happens, he said, Manson and the women could be put to death along with more than 90 persons awaiting execution on San Quentin's Death Row.
Manson and the women, however, face automatic appeals which could delay their deaths as long as five years.
Fitzgerald told the judge a juror confided to him that if he had thought the defendants would actually be executed he couldn't have voted for death.
Superior Court Judge Charles H. Older turned down motions for a new trial, a motion to question jurors about their verdicts, and another to reduce the sentence to life imprisonment. He then pronounced sentence and stated his own feeling about the case publicly for the first time.
"After 9 1/2 months of trial," he said, "all the superlatives have been used. All the hyperbole has been engaged in…All that remains are the bare stark facts of seven senseless murders — seven people whose lives were snuffed out by total strangers for motives that remain known only to them…Not only is the death penalty appropriate but it is almost compelled by this case."
Manson, 36, and three women members of his nomadic hippie-style clan — Patricia Krenwinkel, 23, Leslie Van Houten, 21, and Susan Atkins, 22 — were condemned to death March 29 by the same jury which convicted them of murder-conspiracy in the slayings of Miss Tate and six others.
Miss Tate, a blonde, pregnant actress, was savagely slain at her mansion along with four visitors in August 1969. The next night a wealthy market owner and his wife. Mr. and Mrs. Leno LaBianca, were similarly stabbed.
Judge Older ordered Manson taken to San Quentin's Death Row and the women to the California Institution for Women at Frontera. No execution dates were set pending appeals. For the time being, Manson and Miss Atkins will remain in county jail for another murder trial which they face in Los Angeles. Miss Van Houten and Miss Krenwinkel are to be moved to Frontera within 10 days.
Manson, his once flowing mane of locks clipped to a stubble, asked to speak before sentence was passed. Slight and emaciated, he stood with head bowed and in an emotion filled voice said. "I have always lived in the truth of your courtroom. I have always done what I was told. Sir. I invented this courtroom…I accepted this could as my father…I accept the judgment of my father."
The women, who came to court with their heads shaved bald, were asked if they wished to speak but declined.
An attorney said shaved heads were a sign of protest, and a demonstration of their love for Manson.
"Their hair was their entity," said Fitzgerald. "They had been growing it for years." He said they submitted written requests to prison officials to have their waist-length tresses shorn after Manson adopted the bald style. The prison beauty shop did the job.
The judge denied defense motions for a new trial and vetoed a request to call jurors as witnesses to ask whether their deliberations were influenced by publicity or by a reported offer of money for their story. The judge said he felt "there is no such necessity nor is it desirable" to interrogate the jurors. Four jurors who were in the court left smiling, pleased that they did not have to testify.
The judge had the discretion to reduce the death penalties to life imprisonment, and attorneys argued that he should do so.
Fitzgerald asked the judge to consider the women's use of LSD and whether they "killed on their own or under someone else's impetus."
The state contended Manson used the women as "robots" to do his killing, and the defense said that meant they were unable to premeditate. The women confessed roles in the slayings during the penalty trial but said they were "stoned" on LSD.
Maxwell Keith, attorney for Miss Van Houten, noted she was 19 at the time of the slayings and said, "I don't know of any 19-year-old girl in modern times who has been put to death." He added, "I don't believe her mental and emotional age now is 21. She's more like 10 or 12 to me."
Miss Atkins' attorney, Daye Shinn, asked for leniency in view of her cooperation with the district attorney's office. Her confessions to a jail cellmate and later in testimony before the grand jury led to indictments.
The judge said he searched trial records for "mitigating circumstances" but found none. He said he thought death sentences would "show the revulsion of the community for the kind of conduct engaged in…This is an appropriate case for the death penalty.
By LINDA DEUTSCH