Manson Case Fugitive Surrenders
Wednesday, December 2nd, 1970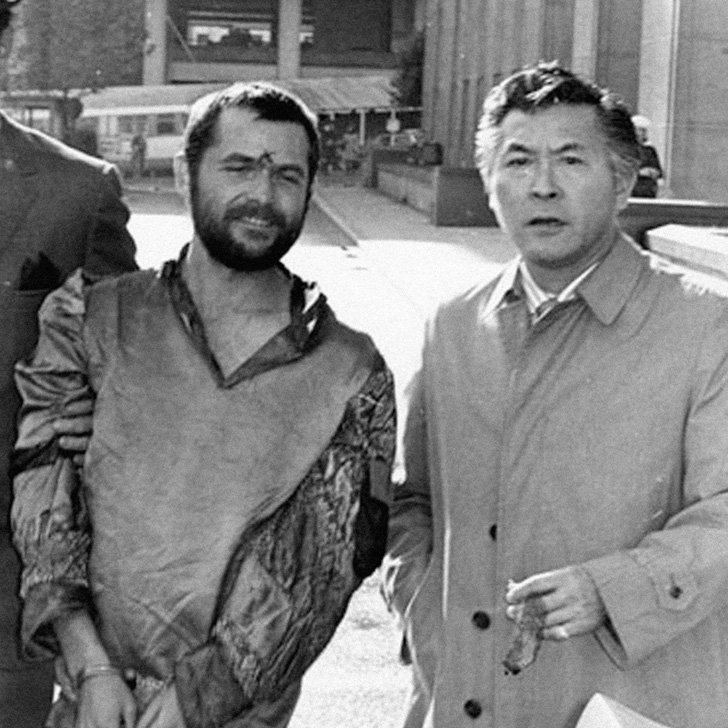 Bruce Davis, left, a freshly carved bloody "X" on his forehead, is led into the Hall of Justice in Los Angeles by his attorney, Dave Shinn, who talked the crony of Charles Manson into surrendering. Davis, 27, a member of the Manson hippi-style family, is under indictment in the July, 1969 murder of musician Gary Hinman. He had talked to newsmen on a Los Angeles street corner before surrendering.
LOS ANGELES, Dec. 2 – A bearded member of Charles Manson's hippie-style family still wanted for murder surrendered to police in front of the Hall of Justice today, saying he believed that in return "some people are supposed to be cut loose."
Bruce Davis, 27, was joyfully embraced by a raggedy group of Manson family members camped on the corner outside the building where Manson and three women co-defendants are on trial for the Sharon Tate murder.
Davis has been sought on murder charges in the slaying of musician Gary Hinman. Manson and Tate defendant Susan Atkins also are charged in that killing.
The surrender apparently was arranged by two Tate trial attorneys — Paul Fitzgerald and Dave Shinn — who waited on the corner ior him along with two homicide detectives.
Davis refused to say exactly what was promised in return for his surrender, but said "he would do it for me." Asked if he meant Charles Manson, Davis shrugged and smiled, then added: "They want to kill Bobby."
This was an apparent reference to Robert Beausoleil, another Manson family member, who was convicted in the Hinman slaying and now awaits execution on death row.