Manson Girls Arrive At Prison Near Corona
Wednesday, April 28th, 1971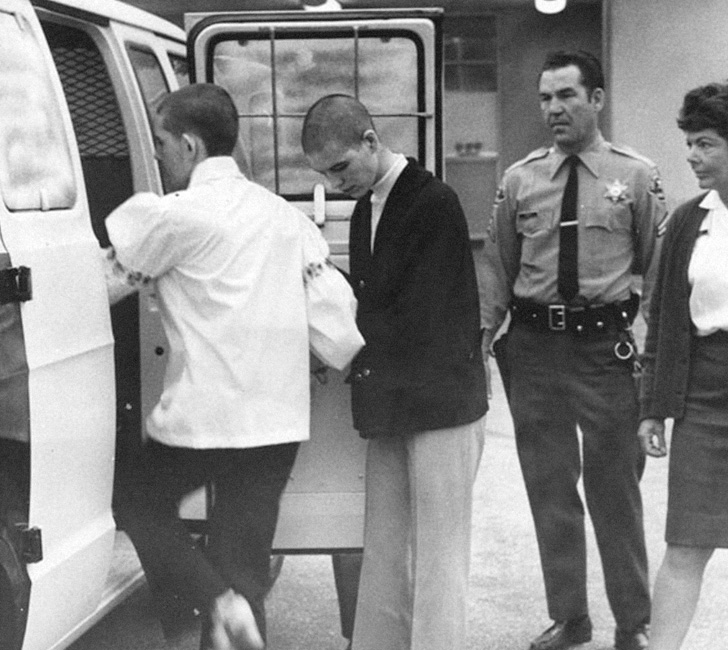 Patricia Krenwinkel, left, and Leslie Van Houten, convicted in the Tate murders, are taken from women's jail in Los Angeles to Frontera prison.
FRONTERA, Calif., Apr. 28 — Two of the three women convicted and sentenced to death with Charles Manson in the Sharon Tate murders were booked today into a miniature death row at California Institute for Women near Corona.
Patricia Krenwinkel, 23 and Leslie Van Houten, 21, were whisked to the prison here from Los Angeles in the early morning by a sheriff's van.
Miss Krenwinkel and Miss Van Houten, nearly bald from shaving their heads last week to hear their sentence in a gesture of unity with the shorn Manson were placed in separate 9-by-6 foot cells on a newly remodeled wing of the prison.
They will remain on the death row at least until a decision is made on appeals of their convictions and sentences. All executions in California have been frozen since 1967 pending review of the death penalty by the U.S. Supreme Court.
A third "Manson girl," Susan Atkins, 21, was checked into CIW last week and then returned to Los Angeles to face charges with Manson in a second murder case. She will be returned to CIW after the trial.