Manson's Disciples Vow Torch Death On L.A. Sidewalk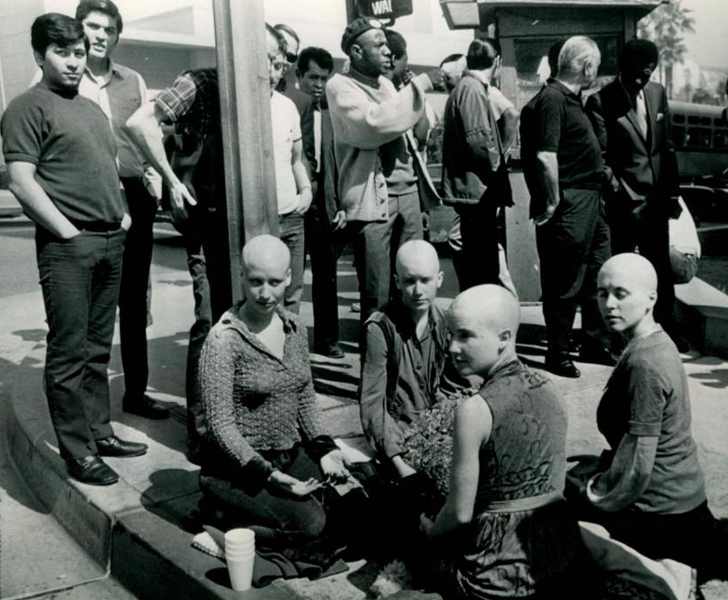 GIRLS IN MANSON "FAMILY" SHAVE HEADS – Four young women members of the Charles Manson "family" kneel on the sidewalk outside the Los Angeles Hall of Justice today with their heads shaved. They've kept a vigil at the building throughout the long trial in which Manson and three other girls were convicted of slaying actress Sharon Tate and six others. Left to right: Cathy Gillis, Kitty Lutesinger, Sandy Good, Brenda McCann. Jurors were believed near a verdict on the penalty to be imposed on the defendants
LOS ANGELES, Mar. 29 — Six members of Charles Manson's hippie "family" who have kept vigil outside the building where his trial has been under way for more than nine months threatened today to burn themselves to death should their leader be sentenced to death.
Meanwhile, the jurors who are to decide Manson's fate arrived for their second day of deliberation with suitcases in hand, indicating a verdict was near.
Manson's group answered a quick "Sure" when asked if they did intend to set fire to themselves if the jury's verdict should be death for Manson.
Sandra Good, 26, daughter of a wealthy San Diego stock broker, headed a group of five women and one man who shaved their heads in protest and threatened to die to make people "wake up."
The girls said they had shaved off their long hair and would use it to embroider a vest they have been working on for Manson.
Kneeling in a circle at the busy corner of Broadway and Temple streets, the small band startled newsmen and pedestrians with their appearance.
Their usual flowing hair was gone, but the "X's" carved into their foreheads remained.
Miss Good claimed their appearance was to startle people into realizing they have an "innocent man" on trial.
"If it takes dousing ourselves with gasoline and igniting ourselves, we'll do it. People have to get together now. People have to wake up to see what's happened," the formerly longhaired redhead told newsmen as she kneeled on a rug on the corner.
Miss Good said she would go to any length to get Manson free and to show people they are "trying to kill an innocent man." She claimed that Manson, who has spent 23 out of his 36 years in jail is "only one of many, many innocent men in jail."
With Miss Good were several of Manson's loyal followers, including Mary Brunner, 27, the first member of his "family" and the mother of his child. Also kneeling on the corner were Kathy Gillis, 21; Kitty Lutesinger, 19; Brenda McCann, 19, and a male family member, Chuck Lovett.
As spectators crowded around the kneelers, police kept their own vigil, watching the group from nearby buildings. At one point a police car was parked alongside.
By MARY NEISWENDER