No 'Family' Exists, Media Created It Manson Testifies
Tuesday, February 27th, 1973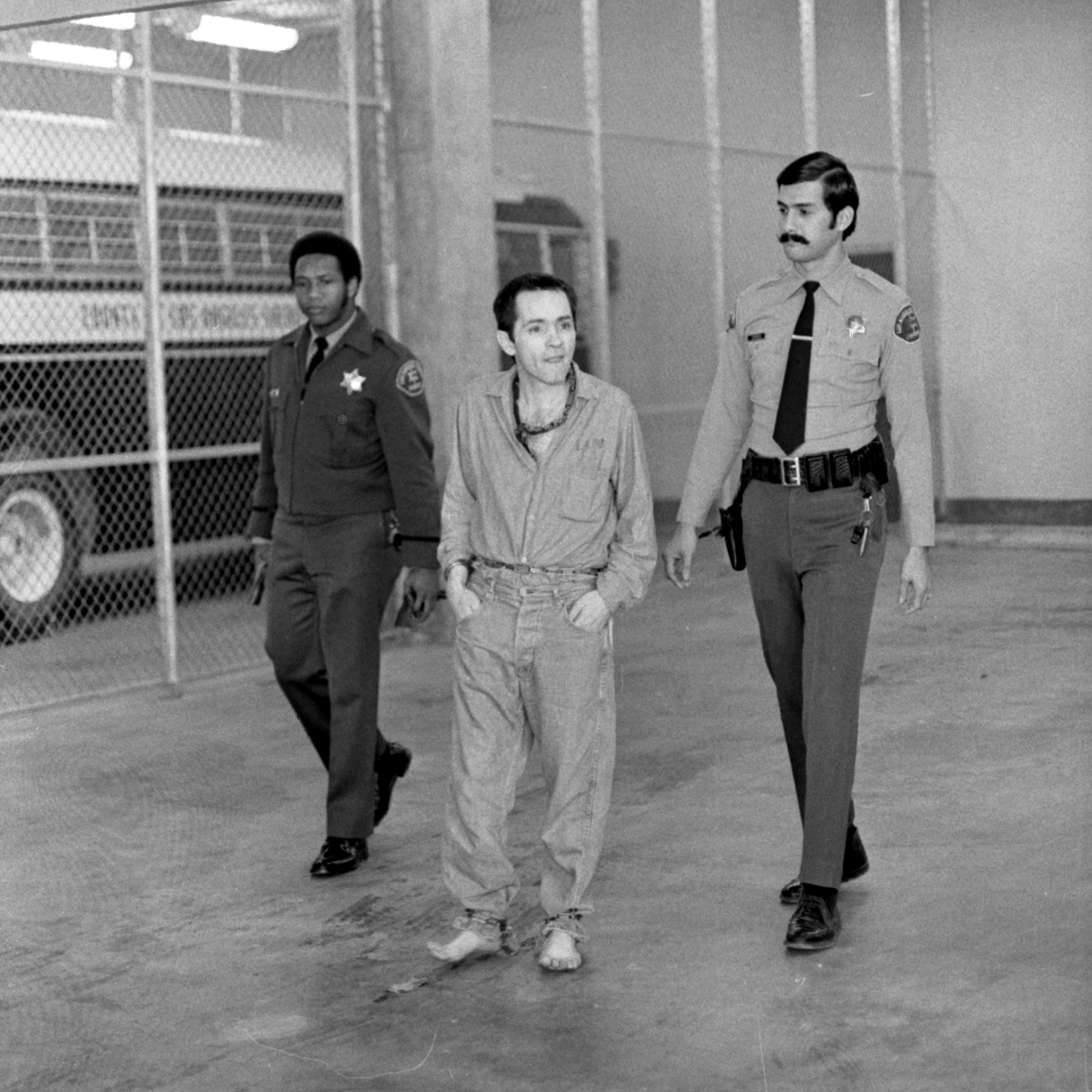 AFTER TESTIMONY – Charles Manson leaving courtroom where he appeared as a witness in behalf of Catherine (Gypsy) Share. Manson, wearing his hair cut short, is manacled hand and foot.
LOS ANGELES, Feb. 27 – Charles Manson testified Monday that the control he supposedly possesses over his so-called "family" of followers is mostly the figment of the news media's imagination and he disputed that there really was a "Manson family."
"These people are just part of a group that the newspapers made up…and there was no motivating force other than a lot of people having fun," Manson told jurors in a sanity hearing for four of his associates.
He had been called as a witness on behalf of Catherine (Gypsy) Share.
Miss Share, 30, was convicted last Wednesday of taking part in two robberies in connection with a plan to free Manson from prison.
Convicted with her of taking 143 rifles and $630 in cash from a Hawthorne surplus store and $2,600 from a Covina beer distributorship were Mary Brunner, 29; Lawrence Bailey, 23, and Kenneth Como, 33.
All four have entered pleas of innocent by reason of insanity and that issue is now under consideration by the same seven-woman, five-man jury that found them guilty last week.
During his hour-long testimony, Manson stressed that the antisocial, violent attitude of the group around him was the outgrowth of many contacts with law enforcement.
Questioned by Miss Share's attorney, Richard Hirsch, about problems with society in general and police in particular, Manson said, "We were pushed into a corner … we didn't have any choice."
Speaking about what he called an escalation of police interference with their existence, he testified:
"It started with a polite knock on the door and 'May we come in?' I'd opened the door because my door was always open to everyone. They would, at first, politely check IDs. That's how it started. But two years later it became a 250 storm trooper raid. They were steadily pushing, pushing and pushing until there was nothing left…it was like a yo-yo game and we were their
favorite game."
Asked by Hirsch whether there were people who were influenced by him, Manson replied, "Yes, I guess there were. I never noticed until I got arrested. I didn't pay much attention because I was generally doing my own thing."
Los Angeles Dep. Dist. Atty. Harland Braun asked asked Manson if he thought any of the four defendants were insane. "That's a relative term," he replied.
By WILLIAM FARR