Steve Grogan Is Convicted Of Murder
Sunday, October 31st, 1971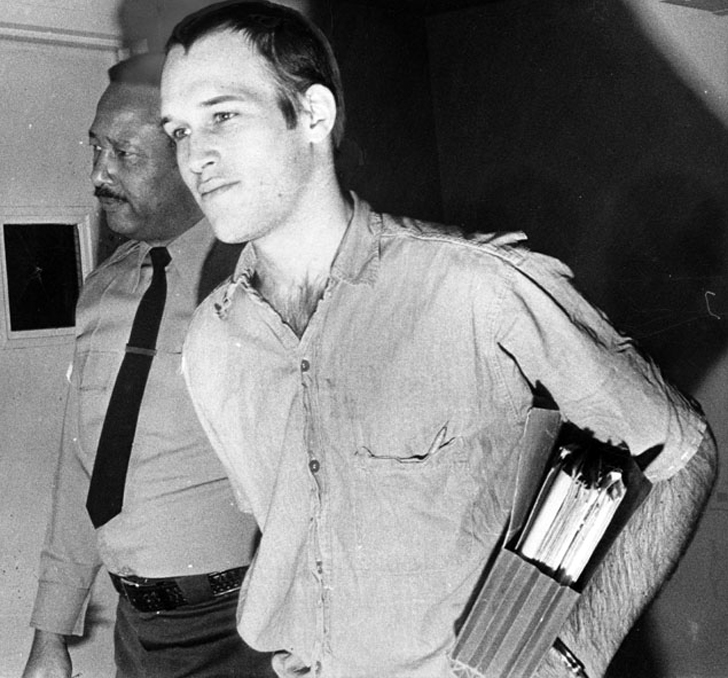 Manson Family member Steve Grogan, on trial for the Shorty Shea murder case, is being led back to his cell in the Hall of Justice by a sherrif's deputy following conviction yesterday
LOS ANGELES, Oct. 31 — Manson family member Steve Grogan was found guilty of murder Saturday for decapitating Donald "Shorty" Shea, a movie stuntman and ranch-hand at the Manson clan's Spahn Ranch commune.
A superior court jury of eight men and four women deliberated eight hours before returning the verdict against the 20-year-old Grogan, known as "Clem Tufts" in the Manson Family.
A penalty phase will follow, at which the same jury will decide whether Grogan gets life in prison or death in the gas chamber.
It was the second trial for Grogan for the Shea murder. The first ended in a mistrial because the judge ruled that a prosecutor had asked a witness an "inflammatory question."
Grogan was accused of helping Charles Manson kill Shea because Manson feared that Shea was going to help evict them from the Spahn Ranch, and because they resented Shea's marriage to a black woman, regarding blacks as inferior.
Manson is also on trial for the slaying of Shea and musician Gary Hinman. The jury in that case deliberated week long without reaching a verdict. Manson and four followers — three women and a man — have already been condemned to death in the gas chamber for the seven Sharon Tate murders