Trial Slated to Start Today In $2,000,000 Murder Suit
Thursday, July 29th, 1971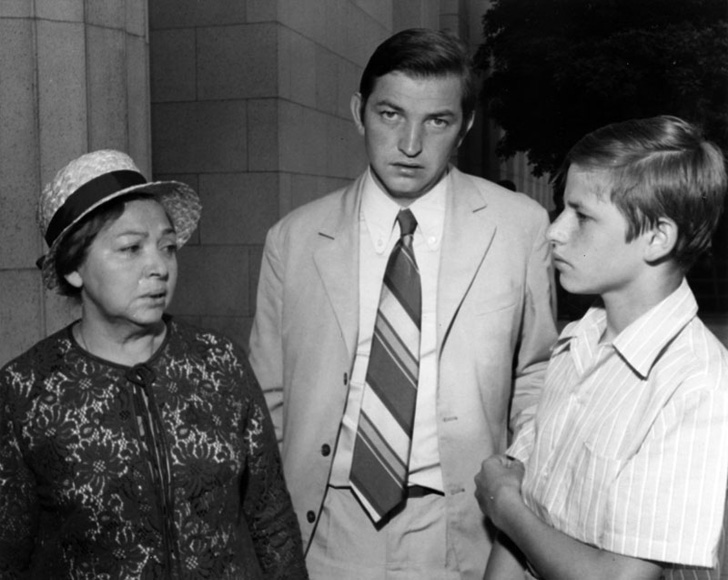 Family of Manson murder victim, Voityck Frykowski, outside of court Tuesday. (Left to right ) Mother Teo Fila Frykowski, brother George, and son Bartek, 12.
LOS ANGELES, Jul. 29 — The trial of a $2,000,000 wrongful death suit brought against condemned mass murderer Charles Manson and four of his followers by the son of one of the victims has been delayed until today.
U.S. District Judge Jesse W. Curtis postponed the jury trial, which had been scheduled to start Tuesday morning, until 9:30 a.m. today because of a crowded court calendar.
The suit was filed more than a year ago on behalf of the son of Polish playboy Voityck Frykowski 37, one of five persons slain at the Benedict Canyon home of actress Sharon Tate in August 1969.
The son 12-year-old Bartek Frykowski; his grandmother Teofila Frykowski, and his uncle George Frykowski 29 are in Los Angeles on visas from their home in Lodz, Poland, for the trial.
The suit was filed by the grandmother on behalf of the boy. The uncle, meanwhile, is an attorney in Poland and accompanied the others to the United States for the trial.
Attorney Nathaniel Friedman, who represents the plaintiffs, said the trial should take only a little more than a day once testimony gets under way.
Besides 36-year-old Manson, others named in the suit are Susan Atkins and Patricia Krenwinkel.both 23: Linda Kasabian 22, and Charles 'Tex' Watson 25.
Miss Atkins and Miss Krenwinkel were convicted of the seven Tate-LaBianca murders earlier this year and along with Manson sentenced to death.
Mrs. Kasabian turned state's evidence at the trial and testified against Manson and the others. She was granted immunity from prosecution.
Watson, meanwhile, has not yet stood trial for the killings. His case was delayed due to a lengthy extradition battle and a several weeks stay in a state mental hospital after local psychiatrist diagnosed him as being "presently insane."
He later was pronounced sane, and returned to Los Angeles for trial.
The Frykowski wrongful death suit will be the first of several filed against Manson and his family to go to trial.
Most of the other lawsuits were filed in Superior Court.