Would You Pay $50 For A Haircut?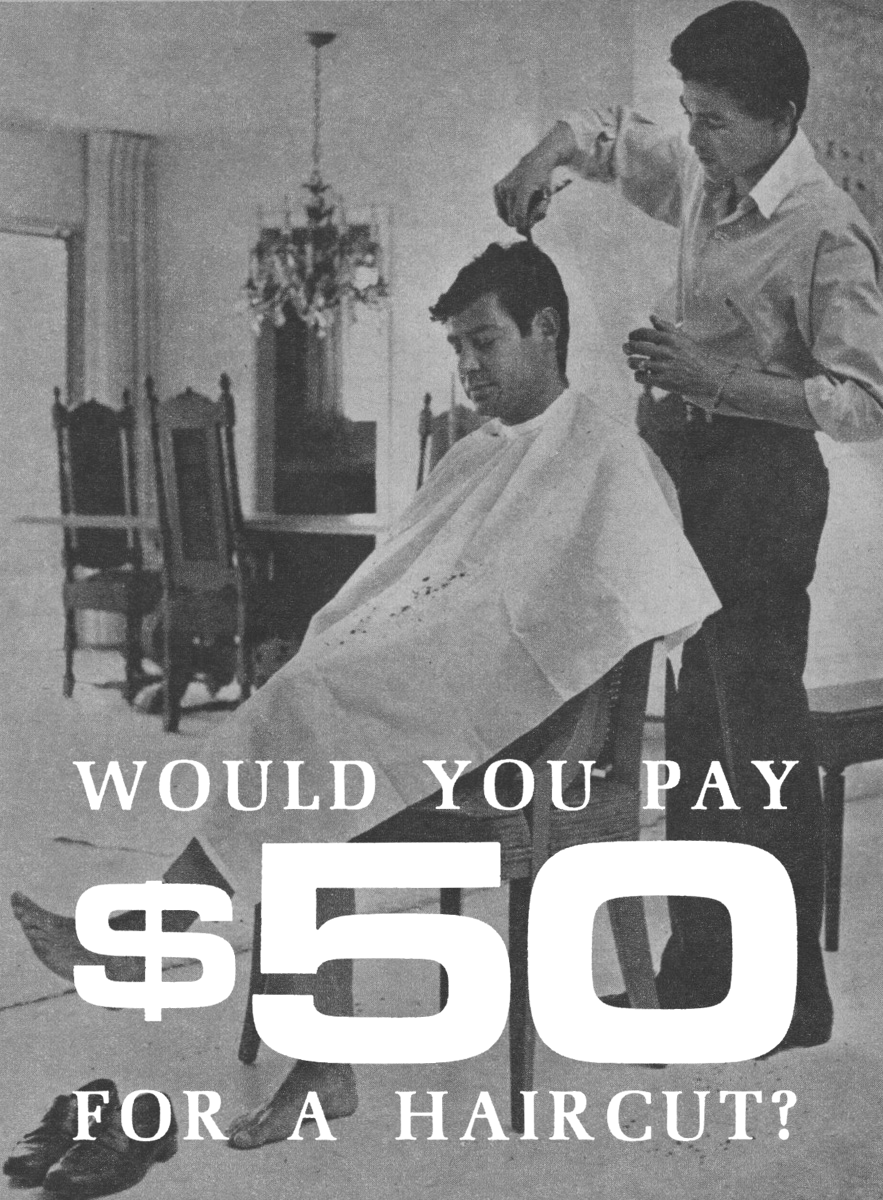 Aug. 4, 1963 – In Los Angeles, there's an establishment where you can get a haircut for a mere $25 — or $50 if the barber comes to your house. And the fragile-looking young man who gets these fees isn't a barber at all; Jay Sebring is a "cosmetologist"!
If you're willing to settle for one of Jay's assistants, you can get a haircut for a measly $7.50 for the first visit and $6 for follow-up calls. On the other hand, Paul Anka has paid Jay $150 plus expenses to clip his hair in Las Vegas, and oilman Saul West had him flown to Dallas, Texas, to cut his hair for $500 plus expenses.
Sebring got the idea for his career while in the Navy. "It has always bothered me that the only luxury man permits himself, in terms of personal appearance, is an occasional visit to a barbershop. French poodles get better clippings than men do."
Jay attended barber college, spent three years in women's beauty parlors, then learned to style men's hair by practicing on beatniks. As Jay's results improved so did his clientele—which now sounds like a Who's Who of Hollywood celebrities. Among them are Henry Fonda, Red Skelton, Jackie Cooper, Steve Allen, Tony Franciosa, Andy Williams, Eddie Fisher, Cliff Robertson, Mickey Rooney, Robert Horton, and Frank Sinatra and his clan—except Dean Martin who, according to Sebring, "cuts his own hair, although he did use my scissors once."
After working on "Mutiny on the Bounty," Marlon Brando got his first haircut in two years from Sebring. Eden Ahbez, the original "Nature Boy," turned down a $3,000 offer from Perry Como who wanted to cut his hair on his television show. Instead, Ahbez went to Sebring and paid the customary charge. And Frank Sinatra's sole advice to his son Frank, Jr., before his first tv appearance was, "Have Jay cut your hair."
Just how startling the effect of Jay's scissors can be was obvious when Hedda Hopper ran into Milton Berle after his hair had been restyled by Sebring. "Milton," she cried, "you had your face lifted."
Jay's two great ambitions are to find time to furnish the beautiful home he shares with his wife in Beverly Hills (it once belonged to John Barrymore) and to give a haircut to the one man who would make his standing as a tonsorial artist complete: President John F. Kennedy.
HENRY FONDA
CLIFF ROBERTSON