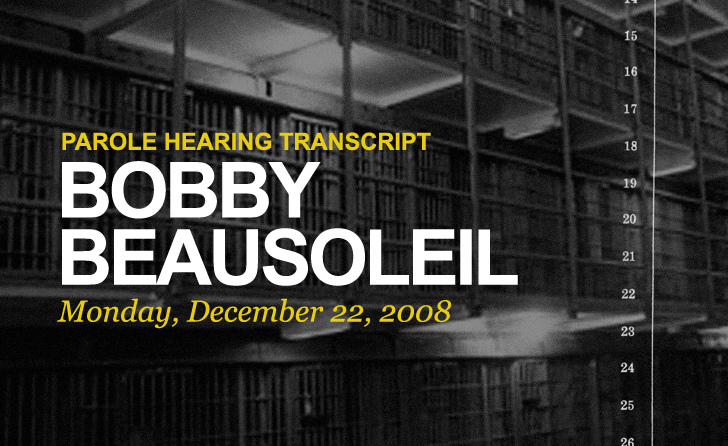 Dec. 22 – In this conference call parole hearing that occurred four years ago today, Bobby Beausoleil attempts to tell a Sacramento parole board what led him to murder Gary Hinman and how he has changed since.
On the phone in Oregon, Beausoleil struggles to communicate with the board and exhausts the patience of Commissioner Arthur Anderson.
"I don't want a history on the 60s," interrupts Anderson when Beausoleil begins talking about the culture at the time of the murder. "I want to know why you're suitable for parole. I lived the 60s, so I know what happened back then."
Answering questions submitted by Deputy District Attorney Patrick Sequeira, Beausoleil reveals that along with his many art and music projects, he is currently working on an autobiography.

Bobby Beausoleil
Bobby Beausoleil was born in Santa Barbara, California in 1947. Bobby displayed an interest in music at a very young age, and eventually taught himself how to play the guitar. When Beausoleil was 16, he had an affair with a cousin's wife; angered by the affair, his cousin left. Young Bobby was forced to play the role of husband, working for a trailer company to support his cousin's wife and child. After the death of a grandmother Bobby moved to Los Angeles.
…Learn more

Commissioner Arthur Anderson
Arthur Anderson, Jr., was appointed to the Board of Parole Hearings by Governor Schwarzenegger on February 22, 2008 and re-appointed by Governor Brown on July 12, 2011. Since 2000, he has been a law enforcement consultant for the National Highway Traffic Safety Administration. From 2004 to 2007, Mr. Anderson served as assistant commissioner for field operations at the California Highway Patrol (CHP) and, from 2001 to 2004, was the chief of the valley division for CHP. From 2000 to 2001, he was chief of the professional standards division at CHP and, from 1999 to 2000, was assistant chief of the Golden Gate division at CHP. Prior to that, Mr. Anderson was director of the California Office of Traffic Safety from 1993 to 1999. From 1974 to 1992, he served in various other positions with CHP including captain commander, lieutenant, sergeant and patrol officer. This position requires Senate approval.