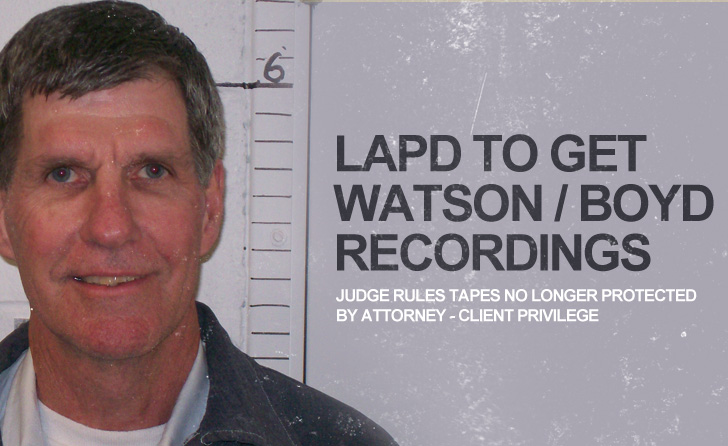 Mar 26 – Judge Richard Schell Sunday ruled that recorded conversations between Manson family member Charles "Tex" Watson and his attorney Bill Boyd are no longer protected by the attorney-client privilege, according to a report by the Associated Press.
"The LAPD is pleased that the judge ruled in our favor," said LAPD public information officer Andrew Smith. "We are looking forward to getting these tapes and thoroughly analyzing their content"
Smith indicated that there's still is a 30 day window for Watson to appeal, and that detectives will wait for that time to transpire before they depart for Texas to take custody of the tapes.
Bill Boyd represented Charles "Tex" Watson in Texas after his arrest for the Tate-LaBianca murders in late 1969. Boyd fought Watson's extradition to California long enough so that Watson wouldn't be tried with Charles Manson, Susan Atkins, Patricia Krenwinkel and Leslie Van Houten.
Bill Boyd died in 2009, and his law firm, Boyd Veigel has since gone into bankruptcy. Department of Justice Trustee Linda Payne was put in charge of liquidating the firm's assets. Among the thousands of legal files were audio recordings made between Charles Watson and Bill Boyd in 1970.
Upon learning about the recordings, detectives from the Los Angeles Police Department, Robbery-Homicide division became interested in them because of the possibility that they might discuss other unsolved murders the family may have committed. In March of 2012, Chief of Police Charlie Beck sent a letter to Department of Justice Trustee Timothy O'Neal asking for the tapes
Last May, Judge Brenda Rhoades ruled that the tapes were no longer protected by privilege because Watson had allowed Boyd to sell copies in 1976 to assist Chaplin Ray Hoekstra with Watson's autobiography Will You Die For Me? Rhodes' ruling prompted a series of appeals from Watson and his attorneys.
In October, the Los Angeles Police Department disclosed that Judge Schell had blocked their attempt to take possession of the tapes via a search warrant issued by the Fort Worth Police Department.
"The Manson crime spree is one of the most notorious cases in Southern California's history," said Smith. "We owe it to the victims and their families to ensure every facet of the case is thoroughly and completely investigated, and we plan to do exactly that."