5 Children Abandoned In Desert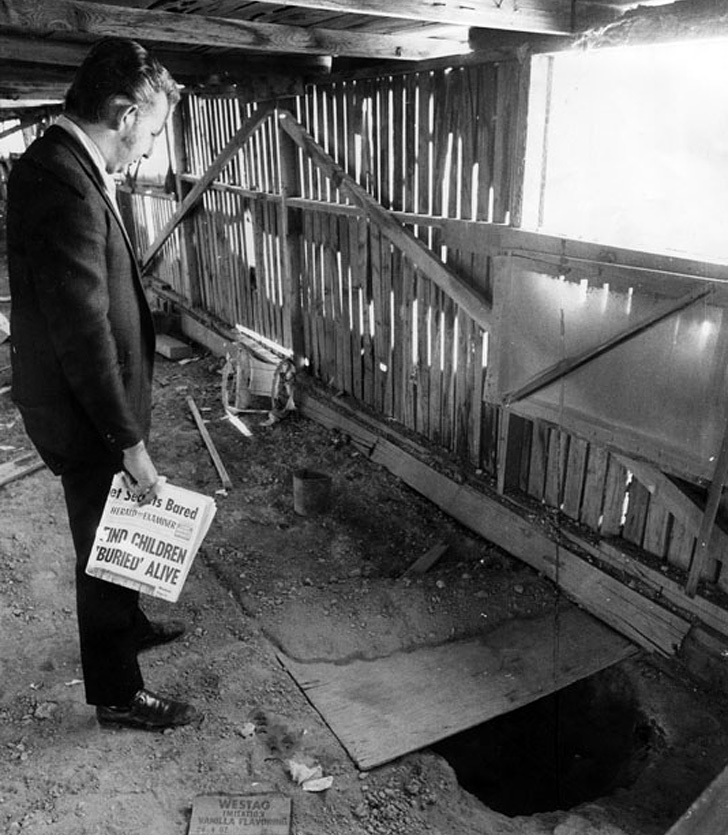 Newsman looks into a tunnel at the end of a chicken coop where sheriff deputies found five children living. The five children are believed to be the children of Dennis Rice, former member of the Charles Manson "family", hippie cult involved in the Tate-LaBianca murders of August, 1969.
LANCASTER, Calif., Jul. 2 — Detectives say they are concerned that other children may have been abandoned in the desert after five children were discovered living underneath an empty chicken shed.
Officers said four of the five who were found Wednesday in a six-foot deep hole are children of Dennis Rice, purported member of the Charles Manson hippie-style cult.
Rice was released from jail last month after serving time for conspiring to place LSD in a hamburger given to a witness in the Sharon Tate murder trial, police said.
The four children; 5 to 10 years old, were in good condition but dirty, officers said. A one-year-old baby girl also discovered in the chicken shed has not been identified.
Deputies said Rice's whereabouts are unknown but the children's mother, Sarah Rice, 29, was located in Healdsburg, north of San Francisco.
Contacted by newsmen, Mrs. Rice said she had been on drugs "for a long time. That's why I left the children with Dennis. But I've been off drugs for a year now and I want them back."
The woman said her husband "felt a revolution would come in this country" and wanted the youngsters to "learn how to hide and stay away from people."
The five children were taken to an El Monte juvenile home for safe-keeping.
Deputies searched the desert yesterday in the area where the Rice children were found for evidence of other missing children. None was found.