Another Ex-Cellmate Says Susan Confessed to Killings
Thursday, October 22nd, 1970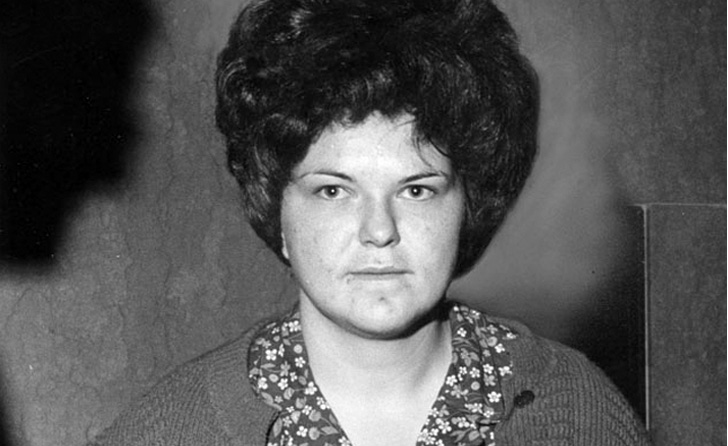 Roseanne Walker, a former cellmate of Susan Atkins said she became friendly with Miss Atkins and at one point heard the girl confess to the Tate LaBianca murders.
LOS ANGELES, Oct. 22 – Hippie cultist Charles Manson appeared in court today for the first time in two weeks — in time to hear another girl friend of his co-defendant say that she "confessed" to the Tate-LaBianca killing.
Manson and his three girl disciples — Susan Atkins, Patricia Krenwinkel and Leslie Van Houten — have been kept out of court since the hippie leader attempted to physically attack the judge for not allowing him to speak. Los Angeles Superior Court Judge Charles Older asked each day that defendants affirm that they would not be disruptive. They have refused to do so, but today they were brought into court anyway.
Roseanne Walker, a hefty former cellmate of Susan Atkins at Sybil Brand Institute took the stand as the jury was led from the courtroom. Mrs.Walker said she became friendly with Miss Atkins and at one point heard the girl confess to the Tate LaBianca murders.
"She said one time 'that ain't the way it went down' when we were talking about the murders which we heard about over the radio," the witness said.
Miss Atkins was crying when they were to he separated, Mrs. Walker testified, and she tried to quiet her, Mrs. Walker added: "She didn't want me to go, and I said I'd see her again and everything would be all right. But she wouldn't stop crying.
"I'm in a lot more trouble than you know about," the witness, quoted Miss Atkins as saying.
"There's more to it than what I'm going to court for now — I was in on those other murders," the woman quoted Miss Atkins.
Testimony last week by another former cellmate of Miss Atkins, Virginia Graham Castro, concerned Miss Alkins confession of involvement in the slayings.
On the stand briefly as court opened was gas station attendant Charles Koenig who found the wallet of slain Rosemary LaBianca in the restroom of a Sylmar gas station where he worked.
Key point in questioning of Koenig Wednesday was how often the bluing agent was changed in the toilet tank — a procedure which could possibly have led to discovery of the wallet earlier than Dec. 10, 1969, when Koenig said he found it. Koenig, under cross examination, however said he had never been asked to change bluing agent in any station where he worked, and was thus unfamiliar with how often it might be done.
Wednesday, actress Sharon Tate's landlord positively identified hippie leader Charlie Manson as a caller at the murder house five months before the mass slayings.
Rudolph Altobelli, who lived in a guest house at the rear of the Benedict Canyon estate, said he spoke briefly with Manson after answering his knock between 8 and 9 p.m. March 24, 1969.
Altobelli identified Manson, who was brought from a holding cell where he is being kept during the trial, as the one with whom he talked.
Altobelli's testimony was sparked by several heated exchanges with Manson's attorney Irving Kanarek, who at one point made a motion to adjourn to the former Tate home "to lake evidence there." The motion was denied by Judge Charles Older.
The wallet was found Dec. 10, 1969, two days earlier Manson and his girl disciples were indicted by the County Grand Jury.
Manson, his hands pushed into his pockets and hair tied in a pony tail, walked to his usual chair al the counsel table Thursday, chatted briefly with defense attorneys, then looked up at the judge and said "Good Morning." The judged ignored him.
The three girls were brought in and smiled when they saw Manson without his usual heavy growth of beard.
"Wow…look at you…you're gorgeous," they mouthed as they took their seats near defense attorneys. All four defendants wore still dressed in wrinkled, faded blue denim uniforms.
By MARY NEISWENDER