Attempt is Made on Life of Tate-LaBianca Witness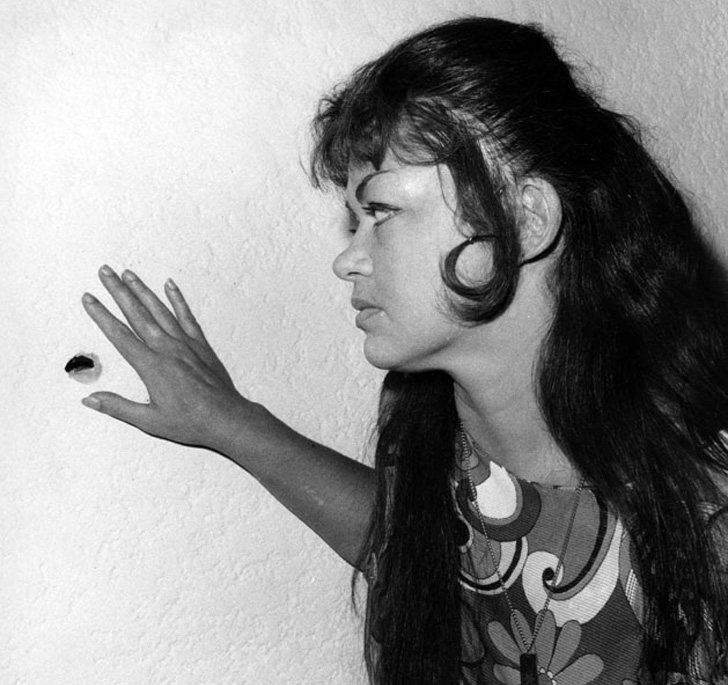 Ronnie Howard, a witness in the Tate-LaBianca murder trial, examines bullet hole in the wall of her Hollywood apartment yesterday.
LOS ANGELES, Jul. 11 — A key prosecution witness in the Tate-LaBianca murder trial was the target of sniper gunfire early Friday morning, authorities reported.
Ronnie Howard, 41, told authorities she was watching television about 3 a.m. in the living room of her Hollywood apartment when she heard a "smack."
Miss Howard, who was a cell mate of convicted murderess Susan Atkins, said she paid no attention to the noise and went to bed a little later.
Authorities said when Miss Howard got up this morning about 10:30 a.m. she discovered a hole in the wall of her living room.
She went through to an adjacent hallway and found a .30-caliber bullet lying on the floor. Hollywood detectives summoned to the scene and said the shot was fired from across the street.
Detectives noted that the bullet went through an open sliding glass door and a closed screen, passing inches from Miss Howard's head.
They said the bullet then penetrated the living room wall and exited in the hallway.
Miss Howard's testimony was instrumental in bringing convictions against Charles Manson and his co-defendants for the Tate-LaBianca murders.
Miss Atkins reportedly told the witness while they were in jail together that she was involved in the murders. Miss Howard promptly turned the information over to authorities.
Miss Howard told newsmen that her life has been threatened several time since she testified at the trial.
She attempted to live in Minnesota for a short while but, after being threatened there, returned to the Los Angeles area in December.
Since then, she has been forced to move three times and has been unable to find employment.
Miss Howard indicated she is "terribly frightened" and said she "sometimes wonders if I should have said anything in the first place."
But she explained she felt she had to because she did not know how many more people would be murdered.
She said about nine days ago she was accosted by four hippie-type youths in Hollywood.
They attempted to shake her down for some money and, when she said she had none, one of them struck her from behind and she was kicked by another after she fell to the ground.
Miss Howard said she didn't know if this had anything to do with the Manson case but said one of the youths did say to her, "If you mess with God you have to pay."