Charging Manson Tries to Kill Judge
Monday, October 5th, 1970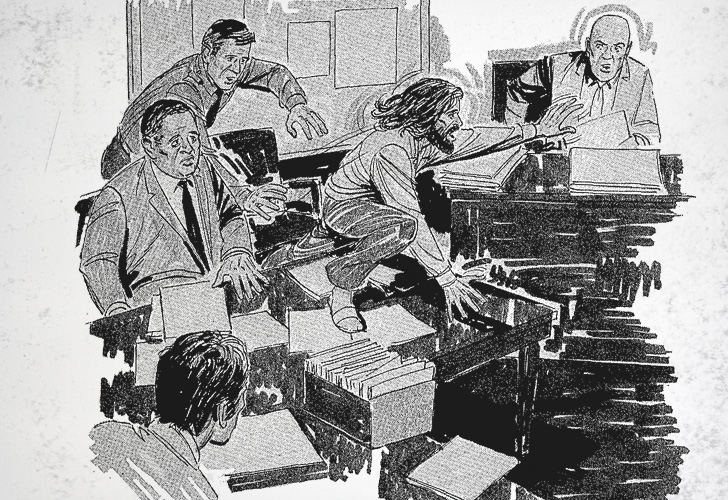 LOS ANGELES, Oct. 5 – Hippie cult chieftain Charles Manson today attempted to kill the judge at his Los Angeles murder trial by leaping over the counsel table after he had threatened the jurist for not allowing him to speak.
The hippie leader was tackled by two bailiffs who leaped after him, their bodies slamming against the bench.
Manson was able to come within only a few feet of Superior Court Judge Charles Older, with whom he has quarreled repeatedly during the 17-week-old Tate-LaBianca murder trial.
Appearing unkempt and nervous, Manson had sat quietly tapping a pencil against the table while the first witness of the day, a sheriff's homicide detective, was questioned.
After all defense attorneys had bypassed questioning the officer Manson asked, "May I ask a question?"
When the judge's eyes diverted from Manson, apparently silently refusing the request, Manson raised his voice:
"Are you going to use this courtroom to kill me?"
Manson repeated the sentence several times, then added, "If you are going to use this courtroom to kill me, you know what I'll have to do."
"What will you do, Mr. Manson?" Judge Older asked.
Manson fumbled for words, then said, "You know. You know."
"You ordered me to be quiet while you kill me in this courtroom. I'm not going to just sit here and let you kill me. I'm a human being and I'm going to fight for my life — one way or another."
"I'll have you removed, Mr. Manson, if you don't be quiet," Judge Older countered.
Then, as Judge Older raised his eyebrows apparently in disbelief, Manson shouted, "You think I'm kidding," then jumped onto his chair and leaped over the five-foot-wide counsel table toward the bench. As his hands clawed at the mahogany paneling of the judge's bench, two deputies threw themselves over the table, tackling Manson. All three crashed to the floor.
Manson did not cry out as the deputies pulled him to his feet and led him toward a holding cell. As he struggled with the deputies briefly, he tured toward the judge, shouting, "In the name of Christian justice, someone should cut your head off."
Although attorneys scattered for cover when the assault began, Manson's three girl co-defendants — Susan Atkins, Leslie Van Houten and Patricia Krenwinkel — sat quietly in their chairs, a few feet from their fallen leader.
As soon as Manson was removed, the girls began to chant in unison a phrase which was apparently part foreign and part English. The last word was — "kill."
When they refused to stop their chant at the judge's order, the three were removed from the courtroom.
By MARY NEISWENDER