Charles 'Tex' Watson Arraigned For Murders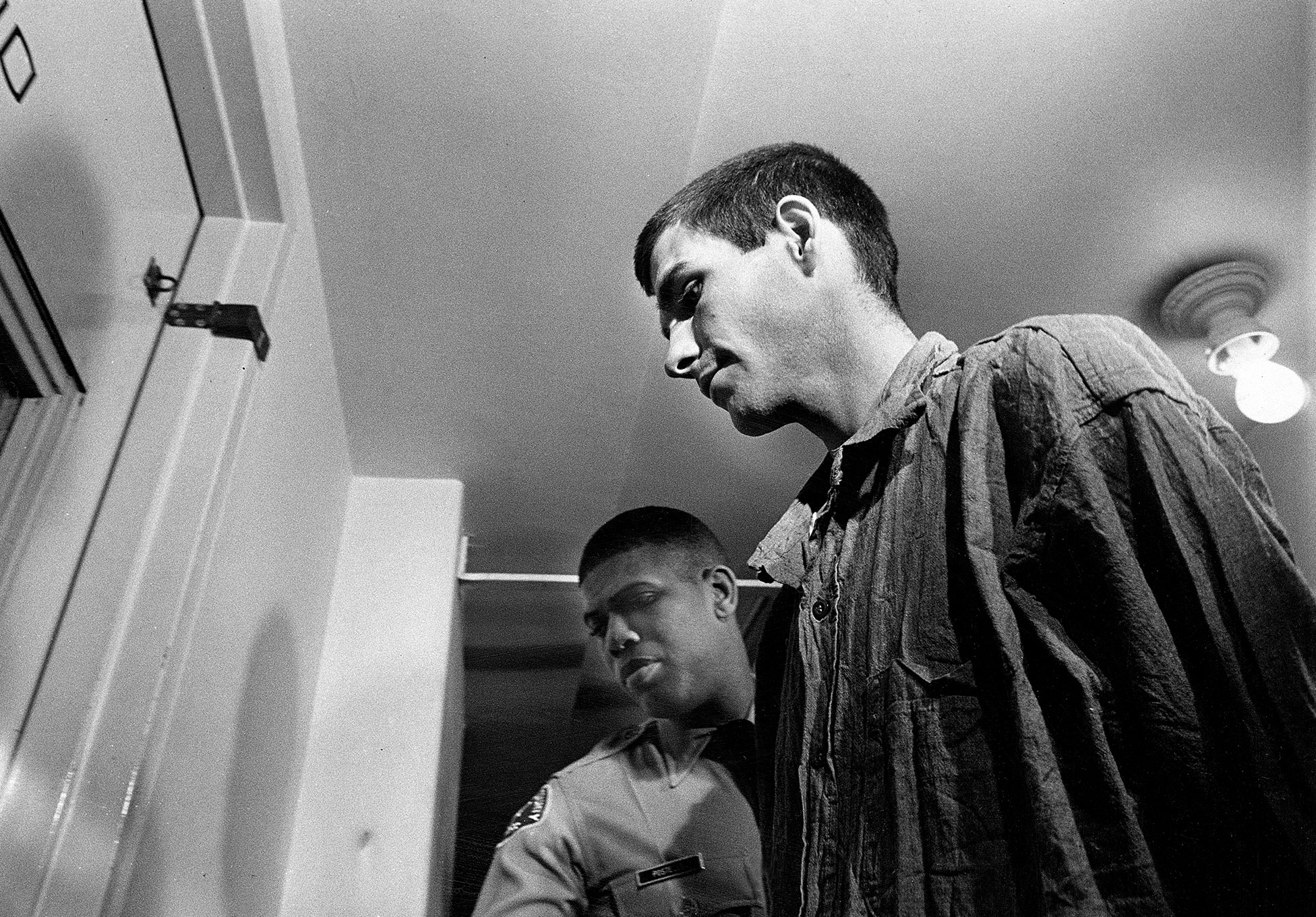 Charles "Tex" Watson is led into court today, where he was arraigned for the Tate-LaBianca slayings.
LOS ANGELES, Mar. 1 – Charles "Tex" Watson, who spent three months in a mental hospital, was arraigned today for the Tate-LaBianca slayings but his trial is not expected to begin for months.
With a jury now hearing final evidence to decide a sentence for Charles Manson and three young women, Watson appeared in a courtroom down the corridor and showed apparent rationality as he briefly answered questions by the judge and prosecution.
The 24-year-old Watson had successfully resisted extradition from McKinney, Texas, until well after the Tate trial started so he was separated from his codefendants. Shortly after he arrived in Los Angeles, psychiatrists declared he "was turning into a vegetable" and he was sent to a state mental hospital.
Watson was returned here a little more than a week ago after being certified as mentally capable of standing trial. His attorney, Samuel Bubrick, indicated to newsmen, however, that the defense would enter a plea for Watson of innocent by reason of insanity.
In the Tate trial itself, Steve Grogan, who ran away from home at the age of 14, has joined with Manson's codefendants in an attempt to save the cult leader from me gas chamber.
Grogan, 19, was sworn in Friday as a defense witness at the penalty part of the trial of Manson, 36, and three women codefendants. He told how he joined the so-called "family" living at the Spahn Ranch near here.
He was to resume his testimony today and tell what he knows of the killing of grocer Leno Labianca and his wife in August of 1969, the night after actress Sharon Tate and four other persons were murdered at her rented Benedict Canyon home.
Grogan indicated in preliminary testimony he would follow the lead of other defense witnesses and exonerate Manson, accused mastermind of the seven killings.
Codefendants Patricia Krenwinkel, Susan Atkins, and Leslie Van Houten all have sworn Manson had no part in the murders.
The same jury which convicted all four of first degree murder and conspiracy is now attempting to decide whether the penalty should be death or life in prison.
Grogan said he had been living at the ranch, used as a background for many Western.
"One morning I got up and the mist was coming out of the ground and there was that big black bus and there were all those people laying on mattresses inside," Grogan testified.
He also told the jury that law enforcement authorities harassed the "family."
"The police kept after us," he said. "They saw all those pretty girls and a few guys and their sex paranoia would get up and they wanted to kill us."
By JACK V. FOX