Ex-Manson Disciple Describes LSD Trips 'Guided' by Charlie
Wednesday, October 28th, 1970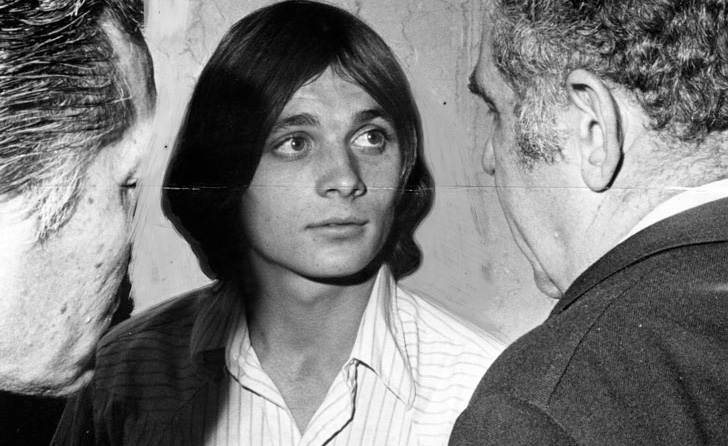 Paul Watkins, 20, a good looking youth with a way with women, had been Manson's chief procurer of young girls. Often he acted as Manson's second in command. While on his trips to and from the Barker Ranch in Inyo County, Watkins over whom Manson had a vice-like hold on was successfully deprogrammed from Manson's way of thinking by a local miner, Paul Crockett.
LOS ANGELES, Oct. 28 – Former Manson "family" member Paul Watkins today took the Tate-LaBianca murder case jury through an LSD trip as defense attorneys attempted to show that the witness was hallucinating.
Under cross examination Watkins, 20, was asked to relate his thoughts on some of his 20 acid trips.
As his former leader, Charles Manson sat smiling at the counsel table, Watkins talked about "laying around with a bunch of bodies…trying to die as Charlie told me to do…trying to make love but being stopped by Charlie…girls screaming in pain…and Charlie sitting in the middle and waving his fingers and saying how confused the air currents were."
Watkins said while he was a member of the Manson family at the Spahn ranch he felt that "helterskelter" (black-white race rioting) was imminent, but doesn't feel so now.
"I see the young people changing, the whole world going through umpteen dozen revolutions. The things you'd get hung for hundreds of years ago, you can write books about today," he said.
As a recruiter of girls for Manson, Watkins said he would "bring girls in and they'd stay awhile and then leave…one stayed a long time."
"Who?" defense attorney Ronald Hughes asked.
"She's sitting right behind you," Watkins said, indicating Hughes' client, Leslie Van Houten. He explained later he recruited her while he was on a trip to San Jose and she returned to the ranch with him.
Miss Van Houten is charged only with the LaBianca murder. The other two girl defendants, Patricia Krenwinkel and Susan Atkins are charged with both the Tate and LaBianca murders.
Tuesday Watkins said Manson predicted in the spring of 1969 some "super atrocious murders in the rich piggie districts" of Beverly Hills and Bel Air which would set off a black-white bloodbath.
Watkins said the hippie leader became impatient when such crimes did not come to pass.
"Charlie said he scared off girls because with his beard he looked like the devil and was too old," Watkins said. "He said he wanted to put his best foot forward and I was it.
"He told me to sick 'em. He said to go out and get girls and bring them to Charlie before I even touched them. That was a pretty good trick."
Watkins said that he recruited only a few.
The state witness said he first met Manson early in 1968 and that Charlie told him of getting out of jail in 1967 and going to San Francisco's Haight Ashbury district.
"He said a little girl walked up to him and gave him a flower. He said that just blew his mind, all that love. He asked her if she would go to his apartment with him and she said sure.
"Then he met one girl after another. One of them was Sadie Glutz (Susan Atkins). And they got a Volkswagen bus, a bag of brown rice, a bag of acid and just started driving around."
Watkins was asked about a conversation he had with Manson a month after the slayings. The witness said Manson told him.
"I'm having to show blackie how to do it."
The courtroom, with the jury absent, broke into an uproar when Watkins added that the conversation also referred to Manson killing a man named "Shorty."
Police have been seeking for more than a year the body of a Spahn Ranch hand named "Shorty" who disappeared during the summer of 1969.
Superior Court Judge Charles H. Older refused a motion by the defense to order the newsmen at the trial not to mention the alleged killing of "Shorty."
By MARY NEISWENDER