Foreman of Manson Trial Jury Tells Views on Case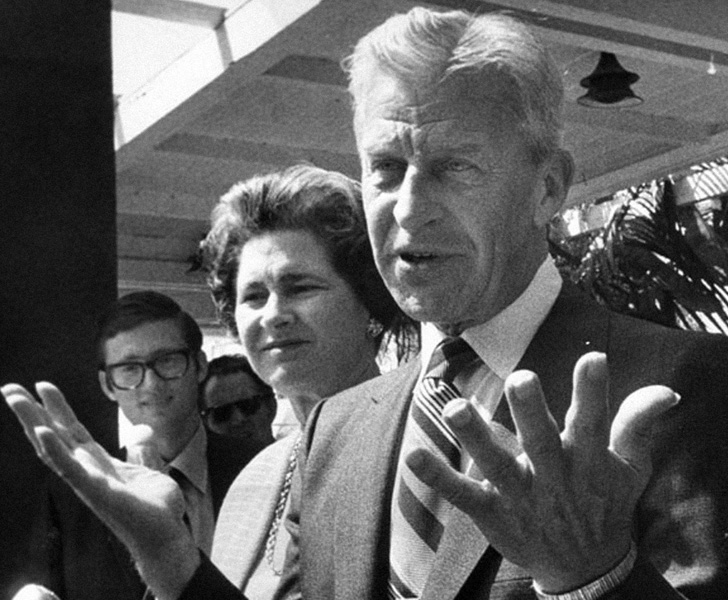 NO 'HANKY PANKY': Herman Tubick, foreman of the jury that convicted Charles Manson and three women and sentenced them to die for the Tate-LaBianca murders, denied any "hanky panky" among jurors. He is shown with his wife.
LOS ANGELES, Apr. 2 — The foreman of the Tate-LaBianca jury indicated yesterday that he thinks Linda Kasabian should have been convicted of first-degree murder along with Charles Manson and three other members of his nomadic band.
Herman Tubick, a 58-year-old mortician from Monterey Park, expressed reservations about the prosecution decision to grant immunity to Mrs. Kasabian.
She was the star prosecution witness at the nine-month trial which ended Monday and gave damaging testimony in the early stages against Manson and three female followers.
Mrs. Kasabian said she was an eyewitness to two of the seven Tate-LaBianca killings in 1969.
Tubick held a news conference at the Ambassador Hotel and talked about a wide range of subjects dealing with the marathon trial.
He said the "supposed" the decision whether to free Mrs. Kasabian was up to the judge.
However, he added: "If she were on trial…if she was sitting right there with that group, I'd find her guilty, too."
Mrs. Kasabian had admitted complicity in the murders, but was granted immunity after testifying against the others.
The jury foreman was accompanied to the news conference by his wife Helen.
Tubick decided upon holding the unusual news conference three days after he and his fellow jurors condemned Manson, Patricia Krenwinkel, Susan Atkins, and Leslie Van Houten to the gas chamber.
Since last Tuesday, Tubick has refused to speak with newsmen about the case. He also said he will grant no further interviews.
The jury foreman said now he wants to forget about the nine-and-one-half-month trial. But he said he would do it over again if requested.
The gray-haired jury foreman said he and his fellow panel members had no great difficulty reaching decisions on either conviction or the death penalty.
"We took all our evidence that came off that witness stand and nowhere else," Tubick said.
He said the antics of Manson and the three women did not help them, but hastily added that the jury did not take this into consideration during its deliberations.
Tubick said he viewed Manson as "another human being."
"He is one of God's children and that's the way I judged him," the jury foreman attested.
Tubick said he had no knowledge of alleged promiscuity among jurors during the time they were sequestered. Another juror, William Zamora of Studio City, said publicly last Tuesday that there was promiscuity among some members of the panel when the jury was sequestered for nearly seven months at the Ambassador Hotel.
"If anybody brought that up, I'd think it's very small of them," said Tubick.
The jury foreman said there were some "personality clashes," but stressed, "in the jury room, we saw eye to eye."
Newsmen noted that Zamora has announced he is going to write a book, illustrated with his own drawings, about life as a Tate-LaBianca trial juror.
"I don't know what he's going to say," Tubick' said, referring to the alleged promiscuity.
"He may know something I don't know," the foreman added.
Tubick also said he had made no deal with Life magazine to sell his story.
However, he said alter the death penalty was returned, juror Larry Sheely of Paramount, had mentioned if the jurors stuck together, they could sell their story to Life magazine for $200,000.
Tubick said this did not affect the decision to execute Manson and the others.
"Our decision was already made , before Mr. Sheely brought this matter up," he added.
Tubick also pointed out he felt trial Judge Charles H. Older made the right decision in sequestering the jury.
The foreman added he believed jurors might have been, swayed by the publicity surrounding the celebrated case if they had not been confined to a hotel.
Newsman asked Tubick if Manson and the others are executed, what purpose would these serve.
"Oh, justice is done," he replied. "This here was God's will and I'm going to stick to it."
By SANDI METTETAL