Hinman Witness Indicted for Murder
Wednesday, June 17th, 1970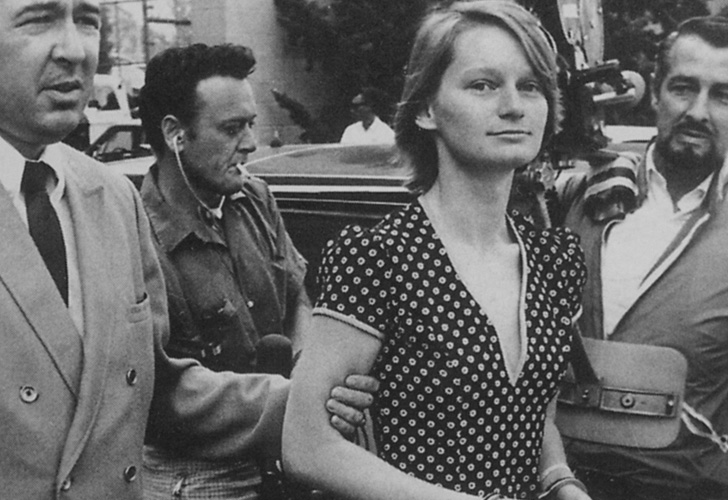 Mary Brunner, a key witness in the trial of Robert Beausoleil for the slaying of musician Gary Hinman, is shown behing taken to county jail at Los Angeles, Calif., grand jury for Hinman's death. Beausoleil has been sentenced to death in the gas chamber. Miss Brunner was a member of Charles Manson's "family," and is the mother of a child fathered by Manson.
LOS ANGELES, Jun. 17 – The prosecution has revoked the immunity of one of its key witnesses in the Gary Hinman Murder case and charged her in the slaying because she went back on an agreement and recanted her testimony that Robert K. Beausoleil killed the musician.
Mary T. Brunner, 26, of Madison, Wis, was indicted by the county grand jury Tuesday and arraigned before Superior Court Judge Malcolm M. Lucas. He ordered her held without bail and continued her motion to represent herself until June 22.
In return for her testimony against those charged in musician. Hinman's torture slaying last summer, Miss Brunner had been promised immunity from prosecution.
Beausoleil, 22, was convicted and sentenced to death in the murder. Charles Manson and Susan Atkins, both on trial in the killings of actress Sharon Tate and six others, also have been indicted in the Hinman case along with Bruce Davis.
During Beausoleil's trial, Miss Brunner testified that he stabbed Hinman. But she later changed that testimony during questioning by Beausoleil during a hearing at which he unsuccessfully sought a new trial.
In a joint statement, Deputy Dist. Attys. Burton Katz and Anthony C. Manzela said "she unilaterally withdrew from our agreement" to cooperate in all phases of the case "and we felt obligated to initiate the prosecution against her."
Katz and Manzeila said althrough she was a prime witness, her loss does not seriously weaken their cases against Manson, Atkins and Davis, all still to he tried in Hinman's death.