'I Owe Society Nothing,' Manson Says
Thursday, June 18th, 1970
LOS ANGELES, Jun. 18 – Hippie leader Charles Manson, in Santa Monica Superior Court today to answer charges he murdered musician Gary Hinman, told newsmen in an impromptu news conference "I owe society nothing."
Dressed in jail fatigues and looking haggard, Manson entered the courtroom with his co-defendant, 21-year-old Susan Atkins, as a battery of television and news cameramen jammed the courtroom shouting questions.
"I paid society 22 years of my life," the long-haired cult chieftain said. "I've lived in your reform schools and institutions all that time."
At times taunted by the newsmen, Manson was asked his feelings as he faced Linda Kasabian in Los Angeles Superior Court Wednesday. The girl will be the chief prosecution witness against him in his trial for the murder of actress Sharon Tate and four others and the murder of Leno La Bianca.
"I was thinking of how pretty she looked," he said smiling, adding, "No, I'm not mad at her."
He turned his back several times on the newsmen, apparently attempting to end the news conference, but swiveled around to answer the question of how he felt about the court.
"I don't care for any attorney and I don't care for the courts. This confusion," he said, waving his arms at the mass of newsmen who pushed and shoved to get near him, "belongs to you. I've lived in the desert, off the plants and the land. That's where I'd like to be, but you won't let me go."
The cult chieftain finally turned his back on the newsmen and sat quietly as court began with a motion by his attorney, Irving Kanarek, to allow the attorney general's office to prosecute the case instead of the Los Angeles district attorney's office.
"We've already had a circus this morning," Kanarek told Superior Court Judge Laurence Rittenband. "Mr. Katz (Burton Katz, the deputy district attorney in the charge of the case) is turning the Hinman case into his life's job.
"If we are to get any kind of justice for the people and my defendant we must have it tried in an atmosphere of justice, not a circus tent. We are going to be the laughing stock of the whole world."
Kanarek's motion, joined by Daye Shinn, attorney for Miss Atkins, will be argued June 25.
Kanarek also asked that his client be allowed to have a press conference so he could tell his story to the mass media.
"I know from the past you are very articulate," the judge told Kanarek.
"You can take care of anything that has to be said."
"I've already been labeled a "no-goodnik," Kanarek smiled. "Like I crawled out from under a rock. So how can I speak for Mr. Manson?"
Also denied by the judge was a motion that Manson be co-counsel with Kanarek and that he serve as his own attorney.
The judge noting that the Tate-LaBianca case was currently under way, set Oct. 13 for Manson and Miss Atkins to enter pleas in the Hinman case.
By MARY NEISWENDER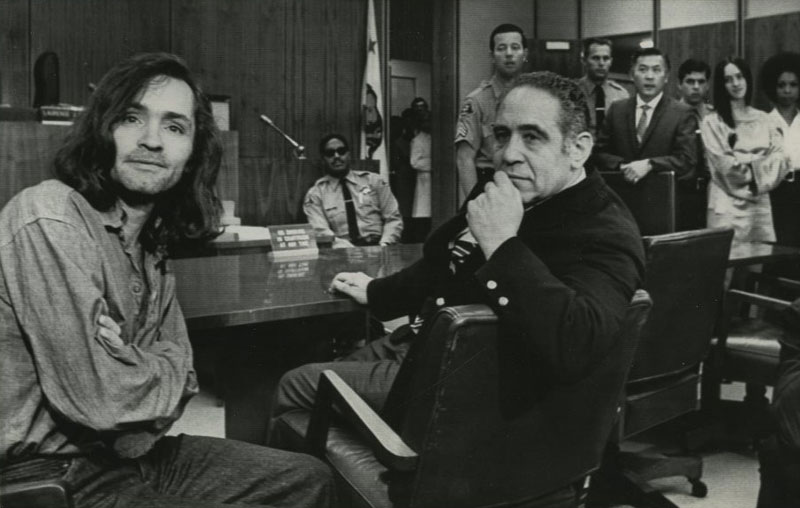 Charles Manson (left) is shown staring at newsmen in a Santa Monica, Calif., courtroom Thursday. He and three of his followers are about to face trial in Los Angeles for the killings of actress Sharon Tate and others. Manson and Susan Atkins also face murder charges in Santa Monica for the slaying of Gary Hinman, a Malibu musician.The Hinman case was continued Thursday. At right is Manson's attorney, Irving Kanarek