Linda A Free Woman
Friday, August 14th, 1970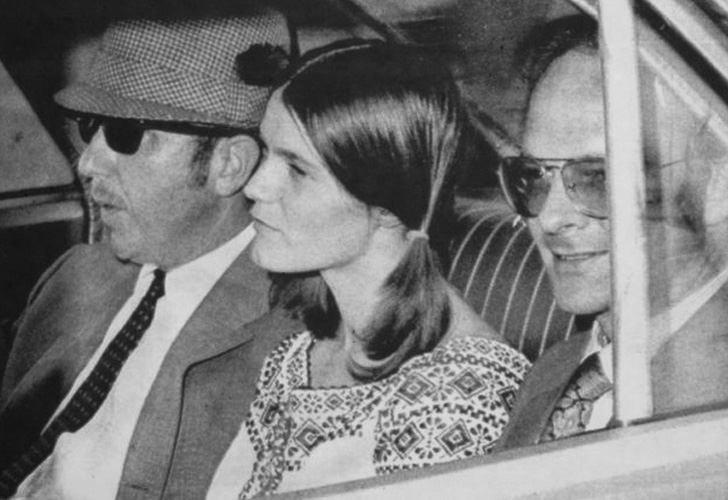 LINDA KASABIAN, star prosecution witness in the Charles Manson trial, is accompanied by her lawyers in an auto in Los Angeles.
LOS ANGELES, Aug. 14 – A year and a few days ago Linda Kasabian listened to the death cries of five persons at the home of actress Sharon Tate, drove away with the suspected killers, and tossed the bloody weapons over a cliff.
Thursday, her testimony against Charles Manson and his followers nearly completed, she was a free woman.
Superior Court Judge Charles H. Older dismissed seven counts of murder against slender young woman who said she went with Patricia Krenwinkel, Susan Atkins and Charles "Tex" Watson to the Tate house, then accompanied Manson, Miss Krenwinkel, Miss Atkins and Leslie Van Houten to the Leno LaBianca home the following night, "because Charlie told me to."
During three weeks of intensive questioning, the pigtailed mother of two has stuck to her version of what happened on the nights of Aug. 8 and 9, 1969.
Although she must return to the witness stand for further redirect examination, and still must be cross-examined again by each of the four defense lawyers, Mrs. Kasabian no longer will spend her nights in jail.
Formal dismissal of the charges took place in the judge's chambers before court resumed Thursday, but under questioning by Ronald Hughes Mrs. Kasabian told the jury she had been released.
"They tell me I am a free woman, but I don't feel any different," she said.
She spent the noon hour in the heavily guarded ninth floor of the Hall of Justice, as usual, but her husband, Robert, and a friend, Charles Melton, were permitted to join her and her attorneys for lunch.
When court recessed for the night, she was taken to the basement of the building, and driven out of an underground tunnel in a turquoise sedan.
She sat in the back seat, flanked by her attorneys, and she made no response to the some 50 photographers and bystanders who watched her leave.
"She can't quite realize it yet," lawyer Ronald Goldman said. "She knows she is free, but she doesn't yet feel the enjoyment we hope she will experience later."
She was to stay at a private home, under protective, police guard, until her testimony was completed.
Thursday she testified — her love for Charles Manson changed after the slayings took place.
"The principle of Charles Manson, I don't like," she said. "But the spirit of Charles Manson, I love like I love all mankind."
During that morning session, Hughes led Mrs. Kasabian through an intricate discussion of the various kinds of drugs she had used during her five years of living in various hippie communes from Boston to Haight Ashbury and the Spahn Movie Ranch.
He wound up his questioning by reviewing: "You have testified you took marijuana, hashish, THC, morning glory seeds, LSD, mescaline peyote, and methedrine?"
"Yes," she replied.
"And during the past year, you have suffered from several major delusions. You believed Charles Manson to be Jesus Christ?"
"Yes," she answered.
"And you believed yourself to be a witch?"
"Yes."
Hughes told the judge he had completed his examination and asked "that the jury be polled to see if they have any questions."
Older denied the motion.