Manson and Three Girls Sentenced To Gas Chamber
Tuesday, March 30th, 1971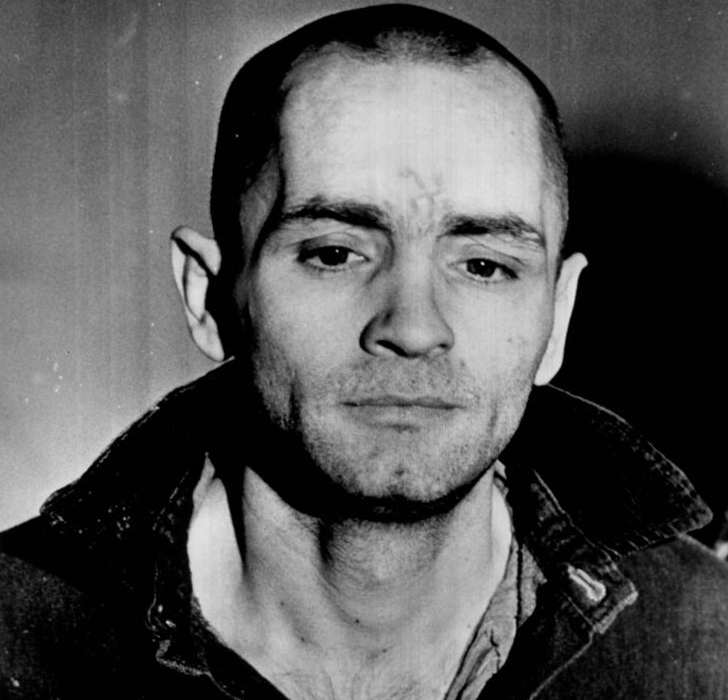 SENTENCED TO GAS CHAMBER – Charles Manson, his eyes a trifle watery, is pictured en route to court in Los Angeles yesterday after being told the jury had decided on his punishment for the Sharon Tate murders. Manson began making derogatory remarks as soon as he entered the courtroom and was taken to another room before the jury sentenced him and three women co-defendants to death in the gas chamber.
LOS ANGELES, Mar. 30 — Charles Manson — the hippie leader who masterminded the seven brutal Tate-LaBianca murders — and three of the girls who carried out his orders, Monday were sentenced to die in the gas chamber.
The nine-and-a-half-month-old trial ended as sensationally as it began.
The cult chieftain was thrown out of court for taunting the judge moments before the verdict against him was returned.
And his three girlfriends — Leslie Van Houten, 21, Susan Atkins, 22, and Patricia Krenwinkel, 23 — were hauled out of the jammed courtroom moments later, screaming death threats to the jurors.
The girls' uproar began after they heard the first of eight verdicts of death returned against their leader. When the verdicts which sealed their own fates were returned they were not in the courtroom.
The five-woman, seven-man jury filed solemnly into the courtroom after 10 hours of deliberation, with only one juror — telephone maintenance man Larry Sheely — glancing at the defendants.
Manson, dressed in jail denims and both his head and face shaved, chatted and smiled at the three girls who had cut their long hair into pixie bobs. He quieted when the jury filed into the room, glancing at each one individually. Sheely was the only one to return his stare.
The jury foreman, Whittier mortician Herman Tubick, smiled at the bailiff who took the 27 verdicts from his hand after the judge asked if a verdict had been reached.
As Superior Court Judge Charles Older read over the verdicts Manson spoke out:
"How can you get by with this without letting us put on some sort of defense."
Ignored by the judge, Manson shouted, "Hey boy!" attempting to gain the jurist's attention.
Warned that he would be taken from the courtroom "immediately" if he continued to speak out, Manson responded:
"I didn't ask to come back." When the judge didn't answer, he continued: "You don't have any authority over me …in fact you're not as good as I am."
Manson shrugged off the hold of several deputies who attempted to escort him from the courtroom on orders of the judge.
"This isn't the people's courtroom," he shouted as he passed the bench en route to a small holding cell adjacent to the courtroom.
Then, as the first verdict was read against Manson — sentencing him to death — the three girls, who had been sitting quietly at the counsel table, began to shout.
"You're all judging yourselves," Susan Atkins shouted rising from her chair. "There's death around the corner for you …just watch your children!"
As female deputies, standing nearby, grabbed her arms and began leading her from the courtroom, she continued to shout:
"You're all fools! You should remove yourselves."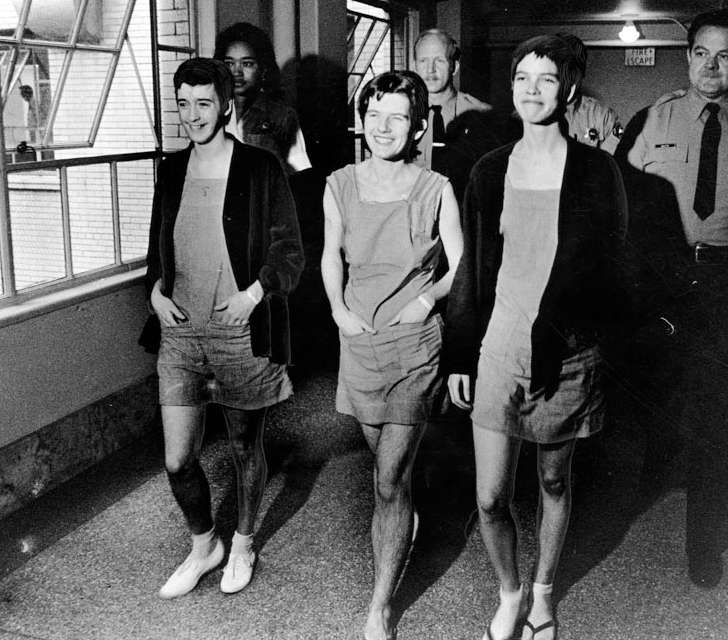 Susan Atkins, left, Patricia Krenwinkel and Leslie Van Houten laughing on their way to sentencing yesterday.
"There was never any thought that they weren't guilty…there wasn't anyone holding out for acquittal. And the death penalty was a clear-cut thing. It was reached without too much trouble."
Thus did 25-year-old William T. McBride sum up his nine-month task as a member of the jury which Monday ordered the death penalty for Charles Manson and his three girl followers.
"There were a lot of time when I felt sorry for the girls…me being young and they being young, it's a funny thing. But they have the ability to determine right from wrong, and they went ahead and did it…and you just can't get away with it."
McBride, a chemical reactor operator who lives in Huntington Beach, claimed that he – during the guilt phase of the trial – might have been considered a "hold-out".
"I wasn't quite sure during the determination of guilt that Leslie Van Houten premeditated and deliberated (one of the prerequisites for a first degree murder conviction). But after a couple of days, I was convinced she had."
McBride claimed he went into the final deliberations not knowing how he would vote, but decided that because of the four defendants' "combined participation" they warranted the death penalty.
"We didn't vote many times…we discussed it…we went at it slow…I'm kinda proud of us, when we deliberated we stuck by the law."
Another juror summed up in five words why the death penalty was ordered for the murders of pregnant actress Sharon Tate and six others: "We wanted to protect society."
Manson was the leader…the worst…I think he's a dangerous influence on society, highly dangerous. In our verdict we wanted to protect society," Marie Mesmer told newsmen.
"You just can't go into a person's home and butcher them up," Miss Mesmer, a former drama critic for a not defunct Los Angeles newspaper, said.
"We made our decision quite early (on the death penalty) but we had to argue so everyone could be heard…there were hardly any disagreements."
However, she said, the trial itself was "tedious" and "very difficult" with some disagreements in the deliberations because "we had different backgrounds and emotional problems, due to the confinement." (The jury had been sequestered for more than six months before returning its verdict of first degree murder last Jan. 25.)
"But, I think we gave the prosecution and defense a fair trial…everyone tried."
Jury Foreman Herman Tubick appeared shaken as he faced the press following the verdict, but claimed he was only "very tired." The 56-year-old mortician, who has two daughters, aged 23 and 37, in a convent, said the trial and the decision "has been very difficult" but "prays to God" the verdicts will be good for the youth of the country.
The oldest juror, Alva Dawson, 74, a former deputy sheriff, agreed with Tubick in that he felt the verdict had served society,
"It will teach these other young people not to make trouble killing people."
Juror Thelma McKennie dashed past newsmen en route to her Palmdale home saying only that the jurors "tried desperately" to find some reason why the women's lives should be spared.
Other jurors refused to talk or were unavailable. William Zamora, an engineer, said he was saving his comments for a book he was writing about the case.
Larry Sheely, a telephone company employe who lives in Paramount, is also saving his story to give it "exclusively" to a national magazine that already has contacted all jurors.
By MARY NEISWENDER