Manson Appears In Court, Still Leads 'Family'
Wednesday, December 3rd, 1969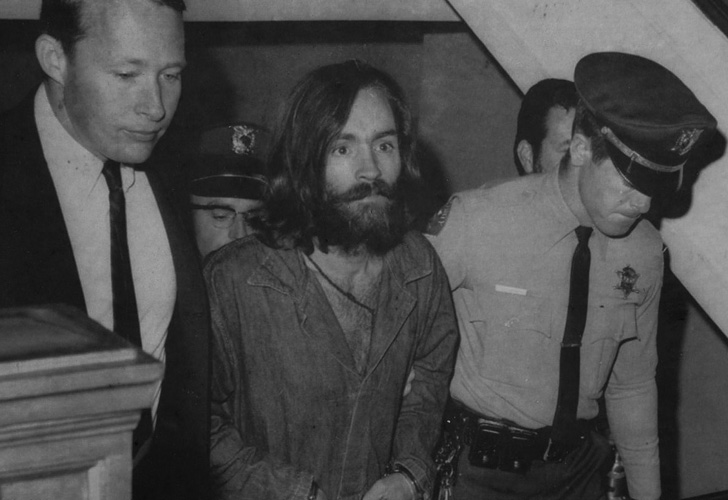 HIPPIE CULT LEADER TAKEN TO COURT – Charles Manson, bearded leader of a hippie band linked to the Sharon Tate murders, is escorted to court today in Independence, Calif., for a preliminary hearing on charges of possessing stolen property. With him is public defender Fred Schaefer, left, and officer Vern Johnson.
INDEPENDENCE, Calif., Dec. 3 – Bearded, long-haired Charles Manson, leader of a hippie cult suspected of slaying actress Sharon Tate and nearly a dozen other persons, was led in chains into court today on a minor criminal charge.
The stooped and slight Manson wore blue prison denim coveralls as he made his first public appearance since being jailed more than seven weeks ago on a charge of receiving stolen property.
He and two dozen members of the "family" were arrested at Goler Wash on the edge of Death Valley where they had squatted in abandoned shacks in the once prosperous gold diggings.
The group was believed responsible for stealing cars in forays into civilization and converting them into dune buggies for roaming in the desert.
A chain was looped around Manson's waist and linked to handcuffs as sheriff's deputies led him from the modern jail of this county seat to the second floor of the ancient stucco Inyo County courthouse.
Newsmen who swarmed into this remote community 150 miles from Los Angeles were warned not to ask the prisoner questions, not even his name, as he sat down and began doodling on a piece of yellow paper.
A couple of followers, one a girl with an infant in her arms, were in the courtroom and Manson smiled slightly on recognizing them.
First testimony was from a housewife who said her new blue dune buggy was stolen and that she later recognized it repainted red in a used car lot. Corroborating witnesses testified before a noon recess about seeing Manson driving stolen vehicles near the desert commune.
The district attorney's presentation was an attempt to show that Manson was guilty of receiving stolen property.
Manson has been held in jail with others of his group since Oct. 12 and Sheriff Merill Curtis said the prisoner still had influence with them.
"Manson is most definitely still the leader of The three other guys," an officer said. "He gives them orders and they obey him.
"We find Manson a model prisoner. He should be. He's been in and out of jail since he was 15 years old. He seems to be very intelligent and well read with a good vocabulary."
The deputy continued, "Manson is cooperative and talkative to a point, but careful not to implicate himself in anything."
The men and a fifth member of the group, a woman held in a cell in another part of the jail, are charged with receiving stolen property, felony weapon violations and auto theft.