Manson Attorney Draws Fire From "Everybody"
Wednesday, August 12th, 1970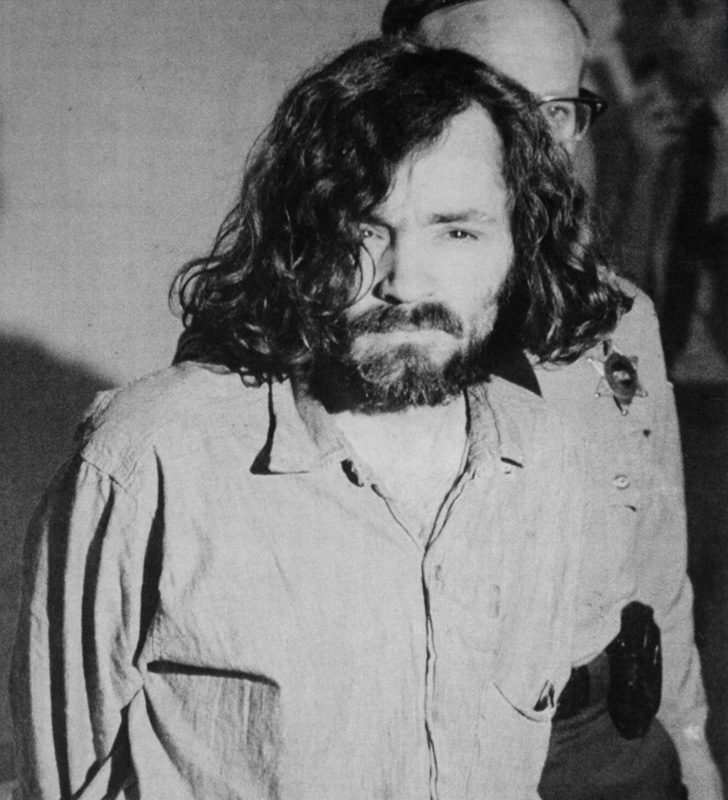 CHARLES MANSON…another day in court.
LOS ANGELES, Aug. 12 – Charles M. Manson's attorney, in his eighth day of cross-examining the state's key witness in the Sharon Tate murder trial, has drawn the fire of the judge, other defense lawyers and Manson himself.
"Manson feels he unleashed Mr. Kanarek by letting him ask a few questions, and now he can't get the leash back on," said Ronald Hughes, attorney for one of Manson's codefendants, Leslie Van Houten.
Hughes said Manson became so disgruntled with Irving Kanarek's questioning that he decided to stop eating until Kanarek slopped cross-examining.
Sheriff's officers said Manson had milk and coffee in jail Tuesday, but no solid food.
Manson chose Kanarek to represent him after the court said he could not act as his own attorney.
Hughes said Manson also objected to Kanarek's line of questioning. Three defense attorneys
have complained that Kanarek appears to be trying to "dump" three women codefendants to help Manson's case. They objected to repetitious accounts by the key witness, Linda Kasabian,
of the women's roles in the killings.
On trial with Manson, 35, charged with murder-conspiracy in the slayings of the actress and six others a year ago, are Patricia Krenwinkel, 22, Susan Atkins, 21, and Miss Van Houten, 20.
Mrs. Kasabian appeared pale and tired Tuesday in her 12th day on the stand. She was charged with the same offenses but has been granted immunity from prosecution. She spoke softly and was often admonished to speak up.
"I'm sorry, Mr. Kanarek," she said at one point. "I've been talking for so long that my voice is failing me."
"Have you been speaking for so long that your mind is failing you too?" Kanarek snapped. The judge ruled out the question as argumentative.
At another point, the stocky Kanarek, pacing in front of the witness, asked, "Do you think I'm dishonest?"
The 21-year-old Mrs. Kasabian smiled and answered, "Yes, from what I've been told."
"Has that opinion ever changed?"
"No," she said with a laugh, "it has never changed."
Superior Court Judge Charles Older sustained a dozen prosecution objections to Kanarek's
questions — mostly because they were repetitive — and often told him, "Proceed, Mr. Kanarek.
Let's get moving."
A source said the Judge scolded Kanarek during several bench conferences for his lengthy cross-examination and told him to conclude rapidly.
The bulk of Kanarek's questioning Tuesday concerned Manson's alleged power over Mrs.
Kasabian and other members of his hippie-style clan.
Asked if Manson kept her in a trance, Mrs. Kasabian said he did, "but I never called it a trance. It was just an influence he had over me. It was everything about him. The way he spoke, the way he danced, the way he sang, the way he made love — just everything about him."
Earlier, Mrs. Kasabian testified that while she lived with Manson's "family," "I was made to believe I was a witch…They told me we (the women) were all witches."
Asked if she thought she was witch during August 1969 – the time of the slaying – the witness
answered, "Yes, I thought I was witch."
"I didn't have any witchcraft," she said. "I didn't really know what a witch was and I still don't."
As he has done earlier, Kanarek flashed in front of the witness color pictures of the murder victims. This time he produced two photos of slain market owner Leno LaBianca, one described by prosecutors as "the most horrible" in the case. It shows LaBianca with a knife protruding from his neck and a carving fork stuck in his stomach.
The attorney held the photo in front of Mrs. Kasabian for several minutes while asking unrelated questions, until the judge, responding to objections snapped: "That's enough, Mr. Kanarek!"
By LINDA DEUTSCH