Manson Codefendant Shouts As Father Testifies
Tuesday, February 2nd, 1971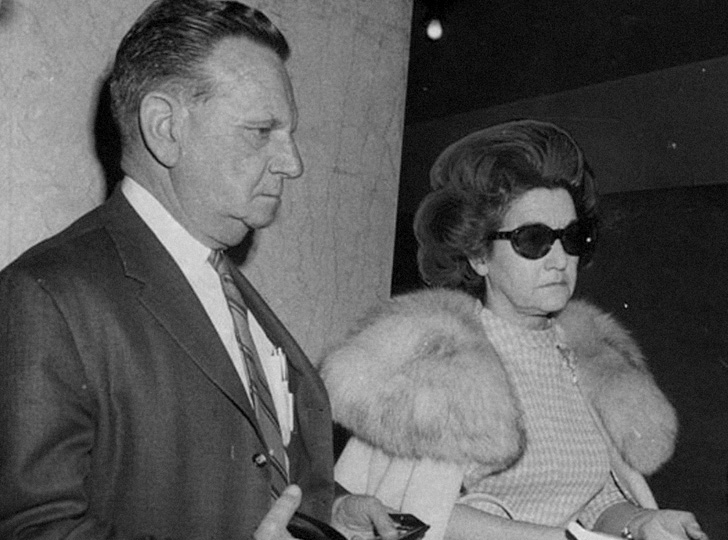 Joseph and Dorothy Krenwinkel, parents of Patricia Krenwinkel.
LOS ANGELES, Feb. 2 – Despite his daughter's objections and shouts of "You're not going to do me any good," Patricia Krenwinkel's father took the stand yesterday as the defense opened its case in the penalty phase of the Sharon Tate murder trial.
Krenwinkel said his 23-year old daughter "was an exceedingly normal child."
Miss Krenwinkel spotted her parents sitting in the spectator section as she was led into court for the afternoon session and shouted out that they were not going to help her. Her mother burst into tears.
The state rested its case after calling only two witnesses. Defense attorneys, who put on no case in the seven-month trial that ended in convictions last week, seek life imprisonment for Charles Manson and the members of his hippie-style clan instead of execution.
Joseph Krenwinkel, an insurance man from nearby Inglewood, is divorced from Miss Krenwinkel's mother, who lives in Mobile, Ala.
"She was an exceedingly normal child," he testified, after his daughter repeatedly told her attorney "I don't want them up there on the stand."
"She liked to play and could always entertain herself…she had a collection of stuffed animals which she prized very highly."
He added that she was religious, sang in the church choir and liked to read the Bible.
He said Patricia got a job in an insurance office in nearby Manhattan Beach after leaving college. In 1967, he said, she called and told him she was taking a leave and going on vacation. When he went to her place of employment, worried, he found her car containing two paychecks abandoned in a parking lot. After that, he didn't see her for two years.
Friends told him, he said, she had left in a car registered to Manson.
When he said Miss Krenwinkel had a 29-year-old stepsister who drowned in 1970 in Mobile, the mother, Dorothy, broke into sobs in the spectator section.
Krenwinkel was the first of an expected 20 defense witnesses, including the defendants, expected to testify over three weeks.
The same jury that Jan. 25 convicted Manson and the members of his hippie style clan on murder-conspiracy charges in the 1969 slayings of Miss Tate and six others now is hearing evidence that will help them determine the penalty—death or life imprisonment.
The final state witness was Cpl. Tom Drynan of the Oregon State Police. He said that after he arrested defendant Susan Atkins, 22, she told him that "had she had the opportunity she would have shot and killed me."
Drynan said he arrested her Sept. 12, 1966, while based 30 miles east of Salem, Ore. He said she and two men arrested with her all were armed and wanted for receiving and concealing stolen property.
Miss Atkins, he said, had a 25-caliber German automatic pistol, loaded with six rounds and one in the chamber, and at one point held it. in her pocket pointed at him.
After looking at their identification and radioing his headquarters to ask if they were wanted, he ordered them to lie on the ground, he said, and they did.
The state introduced Miss Atkins' Oregon police record.