Manson Fate In Hands Of Jury
Saturday, January 16th, 1971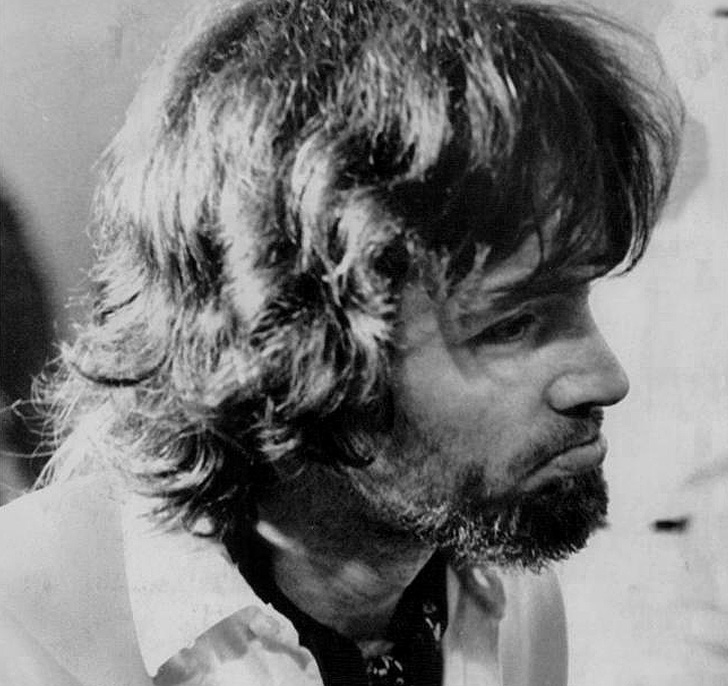 Accused killer Charles Manson walks silently to the courtroom in Los Angeles yesterday.
LOS ANGELES, Jan. 16 – After seven months of trial, a seven-man five woman jury Friday began deliberating the fate of hippie leader Charles Manson and his three girl "followers" charged with seven brutal Tate and LaBianca murders.
The jury deliberated for one hour and 10 minutes, selecting a foreman — Whittier mortician Herman Tubick — in the first few minutes.
They will return to the jury room on the ninth floor of the Los Angeles Hall of Justice today at 9 a.m. and continue deliberating until 4:30 p.m. They will maintain that schedule daily except Sunday until a verdict is reached.
As the panel filed from Los Angeles Superior Court Dept. 104, after an hour of jury instructions by Judge Charles Older, the last voice they heard was that of the man accused of masterminding the killings — Charles Manson.
"Tell them why we couldn't put on a defense, old man," Manson yelled, apparently at the judge, from his holding cell next to the courtroom.
Manson, whose voice has been heard frequently from behind a small grilled window in a door, later sent word to newsmen that if they wanted his reaction, it was that of "indignation."
He also said he intends to change the name of his "family" to "the Conspiracy" after listening to the charges made against him during the trial.
Prosecutor Vincent Bugliosi estimated that the jurors should be in deliberation for "a minimum of three to four days because of the magnitude and complexity of the case."
Chief defense counsel Paul Fitzgerald estimated a verdict would be returned in five days.
Bugliosi said that 34 witnesses have been subpoenaed for the penalty phase of the trial, but added "it doesn't mean we'll use them all."
Fitzgerald warned newsmen that if the prosecution put on a lengthy penalty phase, the defense side would be lengthy too.
As the jury began deliberating, Judge Older called a short hearing on contempt charges against Manson's defense attorney Irving Kanarek.
Judge Older called the attorney's interruption of the prosecution's final argument "frivolous and gratuitous" and fined the attorney $100 or two days in jail.
The case went to the jury following a dramatic summation by Bugliosi who called for a guilty verdict, claiming the victims were "crying out for justice from their graves."
His voice breaking after three days of final argument, the deputy district attorney said that justice could only be served if the panel "carried back to this courtroom a verdict of guilty."
As Judge Older left the bench following the summation and the jurors began filing from the room for lunch, Manson yelled from his holding cell adjacent to the courtroom:
"Hey, Paul (referring to chief defense counsel Paul Fitzgerald). He should have been a preacher."
In the final dramatic moments of his closing argument, Bugliosi claimed that Manson "raped and bastardized the minds of his followers."
"He sent three heartless bloodthirsty robots on a mission of murder…and the photographs show that his horrendous orders were carried out."
Then, referring to actress Sharon Tate's film director husband, Roman Polanski, well-known for his, weird, horror films, Bugliosi said that Polanski "could never have conceived of a more monstrous, macabre nightmare scene of human horror and massacre."
Bugliosi said the killers had an "insatiable hunger for murder…an unquenchable thirst for life's blood." He called the killings the "most horrendous hour of murder and savagery in the annals of human crime.
"As the helpless, defenseless victims screamed out for their lives, their life's blood gushed from their bodies. They (the defendants) would have swum in that river of blood if they could. Susan Atkins, the vampire, actually tasted that blood."
"We're dealing with a man," Bugliosi said referring to Manson, "with a crazed, warped, twisted mind. To expect him to act in a reasonable way is impossible. The words left at the murder scene were Charlie Manson's words. (The words were "rise," "helter-skelter," "death to pigs" and "war." The latter was written carved on the stomach of one of the victims, and the other words were written in blood on the walls.)
"When they left those words they left their identification — they left the fingerprints of their master, Charles Manson," Bugliosi said.
"When you find these bizarre words at a murder scene, then you find a group of people who have an obsession with those words and associate those words with murder. No reasonable man could think that these people are not responsible for the murders.
"It took someone with a morbid, lustful preoccupation and passion for death to order these savage murders, but Charlie Manson probably slept well those nights. He knew that even if the murders did not start helter-skelter (a black-white race war) it was not a wasted mission. He had at least struck out at the establishment. He had gotten seven 'pigs' and that for Charlie Manson wasn't a bad night's work."
Earlier Friday, Bugliosi compared Manson and his love of animals to Adolph Hitler who "was very solicitous of his dog, Blondie, while writing the bloodiest chapters of world history.
"When Charlie Manson says he loves animals and thinks nothing of snuffing out the lives of seven human beings, he's in good company."
Then, methodically citing the evidence against Manson, Bugliosi pointed out that star prosecution witness Linda Kasabian's testimony directly implicated him.
The rope which was found at the Tate home, tying two of the victims together, was believed part of a three-strand nylon rope bought by Manson, Bugliosi said.
He added that the revolver that killed Steven Parent, one of the Tate victims, and which was used in the murders of Voityck Frykowski and Jay Sebring, not only came from the Spahn Ranch headquarters of the "family" but belonged to Manson.
Bugliosi pointed out that testimony showed that Manson borrowed the car used in the killings and was at the ranch not only to send off the killers but to greet them when they returned.
Manson's "intimidation" of several witnesses, Bugliosi said, showed a consciousness of guilt.
"In a reckless moment, he (Manson) put a knife to Juan Flynn's throat and said, 'You SOB, don't you know that I'm the one who's doing all these killings?'That's a confession." (Flynn, a prosecution witness, was a cowhand at the Spahn Ranch.)
Then turning to the motive for the killings, which the prosecution has claimed was to foment a black-white race war, the prosecutor claimed that the hippie leader's philosophy of life and the motive for the murders were "one and the same.
"These murders are incredibly bizarre. And the man who masterminded them — Charles Manson — likewise had a strange and bizarre mind. He had a fanatical obsession and mania for helter-skelter. In his warped and frenzied mind helter-skelter was his vehicle for death that he could ride to unlimited power.
"The motive is far out, bizarre, strange, wild and unbelievable. I'll stipulate to that. But look at the murders. As bizarre as these murders are, they wouldn't have the usual garden variety motive."
By MARY NEISWENDER