Manson Gets Attorney, Angry
Saturday, March 7th, 1970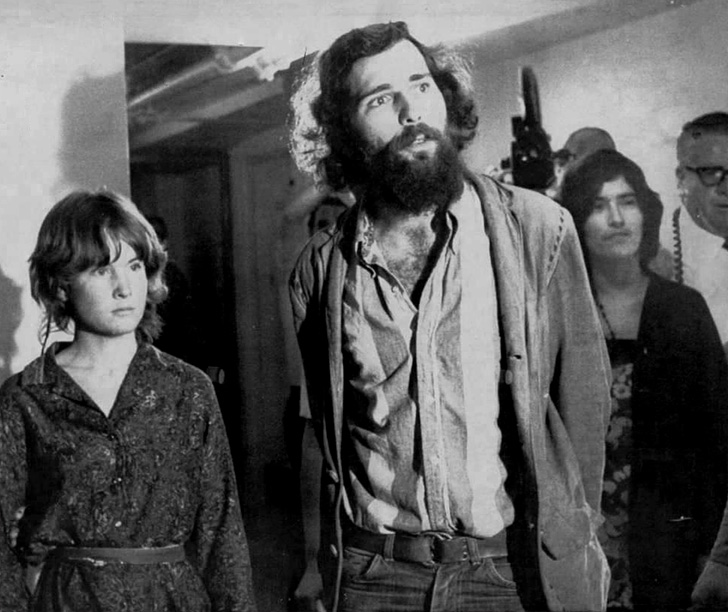 MANSON 'CLAN' MEMBERS ON WAY TO JAIL – Three members of Charles M. Manson's nomadic "family" leave a Los Angeles court Friday on way to serve five-day jail sentence for contempt of court. After Judge William B. Keene ruled that Manson could not act as his own attorney, one of the members yelled, "there is no justice in your court. You are a mockery." Manson is to face trial March 30 on charges stemming from the slayings of actress Sharon Tate and six others. From left are Sandy Good, Mark Ross and Catherine (Gypsy) Share.
LOS ANGELES, Mar. 7 – A judge has appointed a lawyer for Charles M. Manson, saying the grade-school dropout is "hopelessly inadequate" to defend himself against charges of murdering actress Sharon Tate and six others.
Manson, objecting bitterly throughout the Superior Court hearing Friday, exclaimed: "You can kill me, but you can't give me an attorney! I won't take one."
Three Manson followers who shouted protests at the judge were found in contempt of court.
In revoking the permission he had granted Manson to defend himself, trial judge William B. Keene said Manson lacked legal knowledge, his grammar and reading ability were limited, he was unable to type and unwilling to follow rules.
"You indicated to the court that you were incapable of following the most rudimentary rules of the…jail, even in such things as eating or taking a shower," Keene told Manson. Keene stressed the complexity and seriousness of the crimes. Manson and five members of his hippie-type "family" are charged with murder and conspiracy in the slayings Aug. 9 and 10. All but one are set for trial March 30.
"I'm satisfied that if you went to trial before a jury on charges as complex as these…it would be a fundamental denial of due process," Keene said.
He reminded Manson that he had grave doubts when he ruled in December that Manson could defend himself. At that time, Keene told Manson: "You are making a sad and tragic mistake."
A motion Manson had submitted Friday included requests that two deputy district attorneys be jailed so they would have the same restrictions as he did in preparing for trial, and that the court address him as "Charlie."
Keene appointed Charles Hollopeter of Pasadena to defend Manson. He said that if Manson wants to choose another attorney, he will be glad to substitute him for Hollopeter, a veteran criminal lawyer.
As the judge concluded, four of Manson's followers rose from the spectator section and one cried: "There is no justice in your court! You are a mockery!" The judge ruled three of them in contempt. Sentenced to five days in jail were Catherine Share, also known as Gypsy; Sandra Good and Mark Ross.
Manson, who remained calm until the end, told Keene: "I can't deny what you say and I won't try. But again I'll ask the court to look through my eyes. You gave me three weeks to become an attorney. All I want to do is maintain my voice," He admitted that law books, to him, were "mumble jumble."
Then Manson rose red-faced from his seat and told Keene: "Go wash your hands. They're dirty." The judge ordered him removed by the bailiff. As Manson was led out, he said, "There's no love in your court."
By LINDA DEUTSCH