Manson, Girls Sass The Judge; Ejected Again From Courtroom
Wednesday, October 7th, 1970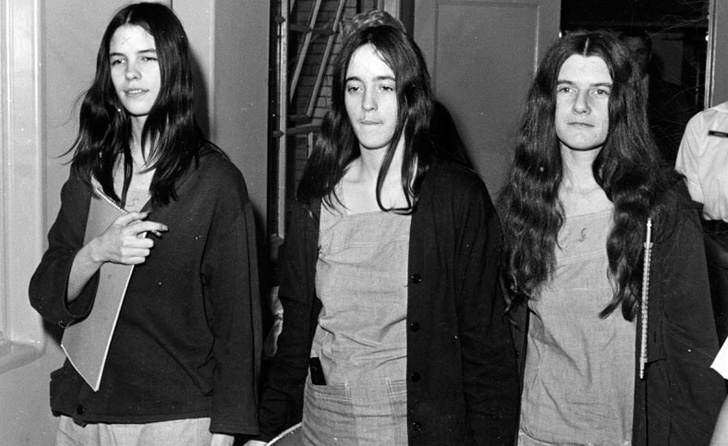 Leslie Van Houten, Susan Atkins, and Patricia Krenwinkel (Left to Right) walk to holding cells Tuesday, where they listened to the trial via a loudspeaker. Judge Charles Older refused to allow them and Charles Manson to reenter the courtroom because the four refused to give assurances that they would not disrupt the trial.
LOS ANGELES, Oct. 7 – Cult chieftain Charles Manson was ejected from Los Angeles Superior Court again today after he charged the judge with being emotional and unobjective and "hiding" the trial proceedings from the public.
The hippie leader's three girl disciples quickly followed suit, saying they "could not accept this courtroom."
The four defendants in the Tate-LaBianca murder trial were brought into the courtroom following an hour-long in-chambers session between attorneys and, Judge Charles Older.
Surrounded by three deputy sheriffs, Manson shuffled into court for the first time since he attempted to attack the judge Monday, and sat down quietly at the counsel table.
His three co-defendants — Susan Atkins, Patricia Krenwinkel and Leslie Van Houten — were escorted into the courtroom by three female deputies who quickly sat behind them as they took their place at the counsel table.
"The court has brought in the defendants so it could ask if they are willing to conduct themselves in a proper manner, Judge Older said, "Mr. Manson?"
"Proper?" Manson answered, slowly rising to his feet.
Manson began to answer in a voice inaudible to press and spectators when the judge interrupted, asking him to answer the question.
"You want to hear my answer or don't you?" Manson snapped back."I'm giving you an answer."
"Very well, let's be brief," Judge Older answered.
"If you were unattached from your job, unemotional, it would be different," Manson said, his hands folded across his chest. "But you won't be objective. You have your personal thing.
"Mr. Older, I can't accept what you've done in the past and what you are doing now. I can't accept you hiding this whole thing…" Judge Older interrupted and ordered him taken from the courtroom. Then, turning to the three girls, he individually asked them whether they would behave in court.
One by one the girls stood and answered.
"Mr. Older," Miss Atkins said, obviously following Manson's lead not to refer to Judge Older as judge, "you are not my judge. You are not my God. You may be these people's God," she said, turning her head toward the spectators in the courtroom, "but you're not mine."
"I will not accept your justice. I judge myself — you judge yourself. I cannot accept this courtroom," Miss Krenwinkel said before she was led from the courtroom.
"Your law will lead you to self-destruction," Miss Van Houten muttered in response to the question.
Judge Older reminded defense attorneys, as the door slammed shut on the last of the defendants to leave the room for holding cells, that their clients could return when they assured the court that they would behave.
In testimony Tuesday, it was revealed that Steven Parent, the 18-year-old casual visitor at the home of actress Sharon Tate who was killed along with the actress and three of her jetset friends, was "excited and impressed" that he was at the estate.
Twenty-six-year-old Jerry Friedman, a friend of Parent's and the 59th prosecution witness to testify in the Tate-LaBianca murder trial, said he received a call from the youth at 11:45 the night of the murders.
Prosecutors claim that Parent was visiting the caretaker at the Tate home, William Garretson, when he made the telephone call to Friedman.
"He wanted to come over to my place," Friedman testified. "But I said it was late. He started to tell me where he was…and said something to the effect that he was at the home of a movie star or someone big.
"I asked him if a party was going on because I heard music. He said, 'no, that's the stereo.' He was excited and impressed with where he was, but was vague when I asked him exactly where he was calling from."
Friedman, under cross examination by defense attorney Irving Kanarek, said that when questioned about the party and whether there were others in the room with him, Parent said there were others but they were "upstairs or somewhere else."
By MARY NEISWENDER