Manson Slashed Hinman, Witness Says
Friday, August 13th, 1971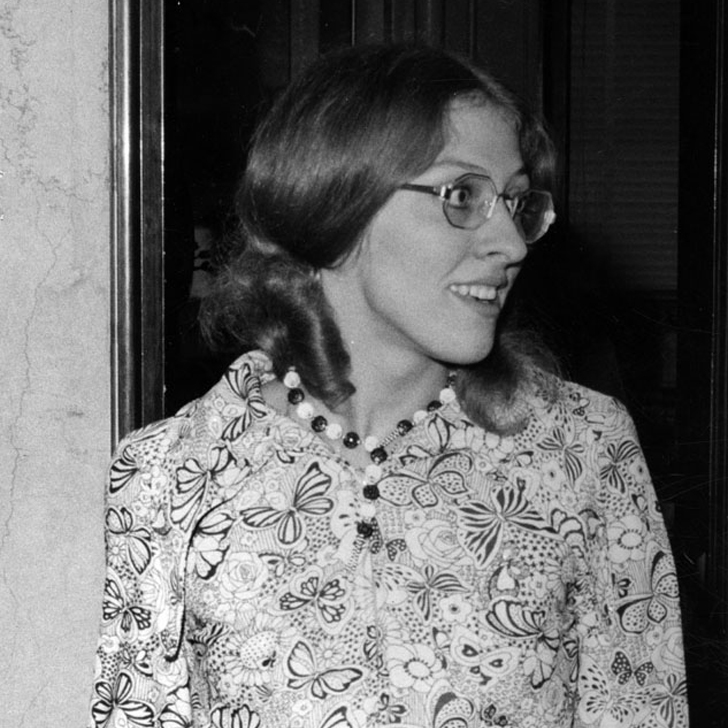 Ella Jo Bailey, a former member of the Manson family, testified yesterday that Charles Manson spoke about slashing Gary Hinman with a sword.
LOS ANGELES, Aug. 13 — A prosecution witness testified yesterday that Charles Manson, walking up and down brandishing a sword in a saloon at the Spahn Ranch, told his cult members how he slashed musician Gary Hinman across the face.
Then, according to the testimony of Ella Jo Bailey, Manson said he left Robert Kenneth Beausoleil "to finish up" Hinman.
Miss Bailey is a key prosecution witness in the second murder trial of Manson 36, charged with the July 27, 1969 murder of Hinman and the alleged slaying the same year of stuntman Donald (Shorty) Shea, whose body has never been found.
The prosecution contends that Beausoleil, who has already been convicted of Hinman's murder, killed the musician on Manson's orders after Hinman refused to give money to the cult.
Miss Bailey said she was present when Manson made his remarks in the saloon of the movie ranch in Chatsworth on the morning of July 28, 1969.
She claimed Manson said that after receiving a phone call at the ranch asking for help, he and Bruce Davis, who is also accused of the Shea-Hinman murders, had gone to Hinman's house.
Testimony in Beausoleil's earlier trial showed that Beausoleil had allowed Susan Atkins to hold Hinman at gunpoint and that Hinman had wrested the gun from her.
On Manson's order, Beausoleil, Miss Atkins, who has already pleaded guilty to Hinman's murder, and Mary Brunner, another Manson follower, were told by Manson to go to Hinman's Topanga Canyon home to get money from him.
Testimony at Beausoleil's trial also showed that Beausoleil had telephoned Manson at the
Spahn Ranch to tell him that Hinman was not cooperating and that Manson and Bruce Davis went immediately to Hinman's home.
Miss Bailey continued her story about Manson's remark's in the saloon by claiming he said that Miss Brunner, Miss Atkins and Beausoleil had finally gotten the gun away from Hinman.
"He (Manson) said he had a heated argument with Hinman and because it was necessary for him to quiet Gary down, he raised the sword and cut Gary Hinman from the left ear to the chin," Ms. Bailey testified
Earlier testimony from a deputy county coroner was that Hinman's face wound could have been fatal without medical treatment.
However, the prosecution contends that Beausoleil stabbed Hinman to death.
Miss Bailey said Manson told his family members that after he had slashed Hinman, the musician had asked for "prayer beads."
She said Manson concluded his narrative by saying that he had "left Bobby to finish up," and that they had gained "two vehicles and $27" by going to the Hinman home.
Miss Bailey said that later in the day on July 28, she left the Spahn Ranch and never returned.
Earlier Miss Bailey testified she was the one who suggested the cult get money from Hinman.
She was called to the witness stand by Dept. Dist. Atty. Anthony C. Manzella.
Miss Bailey's testimony was slow because defense attorney Irving A. Kanarek objected to almost every question asked by Manzella.
The young woman testified that in the summer of 1969 Manson mentioned several times to "family" members that they needed money for dune buggies to go to the desert.
During one such discussion, Miss Bailey said, Manson asked if anyone knew of someone with money for the buggies.
"I said I believed Gary Hinman owned his own house in Topanga Canyon and I believed he had stocks and bonds," the witness said.
Earlier she explained that she met Hinman in 1968 when the Manson "family," during its nomadic excursions, stayed in three separate locations in Topanga Canyon.
Manzella asked her what Manson said when she suggested Hinman.
"He said he (Hinman) was a possibility," she replied.
On July 26, 1969, when the "family" was staying at the Spahn Ranch in Chatsworth, Miss Bailey said Manson approached her and "told me he wanted me to accompany Bob Beausoleil to Gary Hinman's house."
She claimed Manson instructed her to get Hinman "to come with us" or to get the musician to sign over all his property to the "family."
Miss Bailey said Bill Vance, another "family" member, who was with her at the time, told Manson she "had better things to do." She added Manson merely walked away.
The prosecution claims that Hinman was slain when he refused to turn money over to the cult.
Manson was not present in the courtroom during Miss Bailey's testimony. He earlier had told Superior Court Judge Raymond Choate that he could not restrain himself from making outbursts in the courtroom.
Judge Choate banished Manson to an adjacent courtroom lockup, where he could see, but not participate, in the proceedings.
Miss Bailey, a slender blonde, was neatly dressed in a black and white dress.