Manson Trial Interrupted By Follower Of Defendant
Friday, January 1st, 1971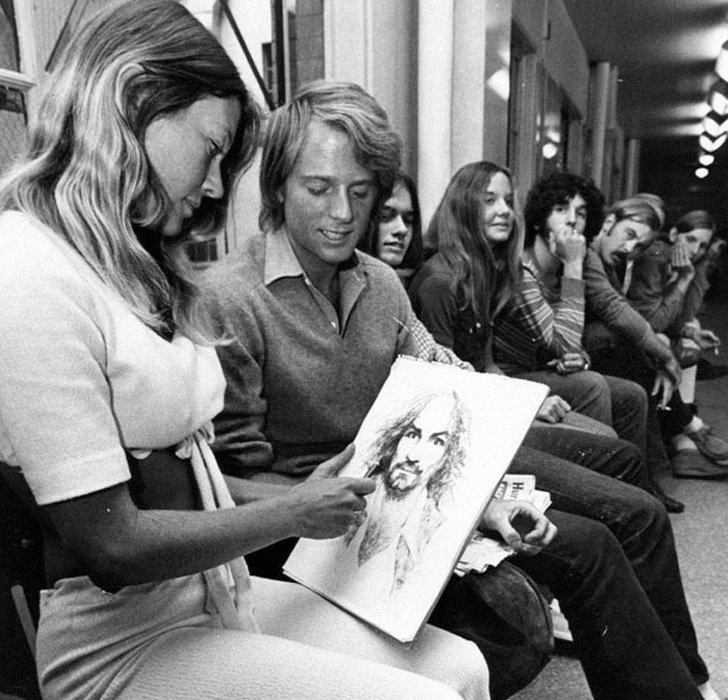 Nancy Jo Davis sits outside courtroom with a picture she drew of Charles Manson
LOS ANGELES, Jan. 1 – The Sharon Tate murder trial was interrupted by a pretty, blue-eyed brunette who wanted to give the judge a folder of poems and essays defending Charles Manson.
"I've come to defend my brother on Christian principles. I want to kill the law with the Bible," Nancy Jo Davis, 34, of Washington, D.C. cried in court Thursday.
Miss Davis, who frequently attended the trial to sketch Manson, 36, for underground newspapers, was ruled in contempt and sentenced to three days in jail by Judge Charles Older.
The trial of Manson and three young women followers charged with murder-conspiracy in the killings of Miss Tate and six others was recessed until Monday.
Miss Davis told newsmen her aim was to help Manson.
"I have Manson coming out of my head…I have learned a lot from Charlie's philosophy. I have also learned from Einstein, from Ghandhi from all the great leaders," she said.
The session also included a heated exchange between Manson's lawyer and the prosecutor.
Irving Kanarek, Manson's attorney, said that state witness Stephanie Schram was ordered by the prosecution to be surrounded by deputies so that the former Manson follower couldn't talk to defense attorneys.
"That's not only wrong, it's a lie!" shouted prosecutor Vincent Bugliosi.
Manson and his female no-defendants were not present in the courtroom during Kanarek's third day of defense summation. They were banished by Judge Older earlier in the week for disruptive outbursts.
Kanarek renewed his attack on Linda Kasabian, the state's star witness. He said Mrs. Kasabian, a former member of the Manson "family," showed a lack of honesty and was "doing the prosecutor's work". He said Mrs. Kasabian and Charles "Tex" Watson were probably the true motivators of a plot to kill the victims.
"The prosecution believes that Mr. Watson is a homicidal maniac," Kanarek said. "But for their purposes in this courtroom they want him to be a puppy dog."
Watson, an alleged member of the Manson group, is charged with the defendants but is undergoing treatment in a mental institution.