Manson's Plea Denied by Judge
Monday, August 24th, 1970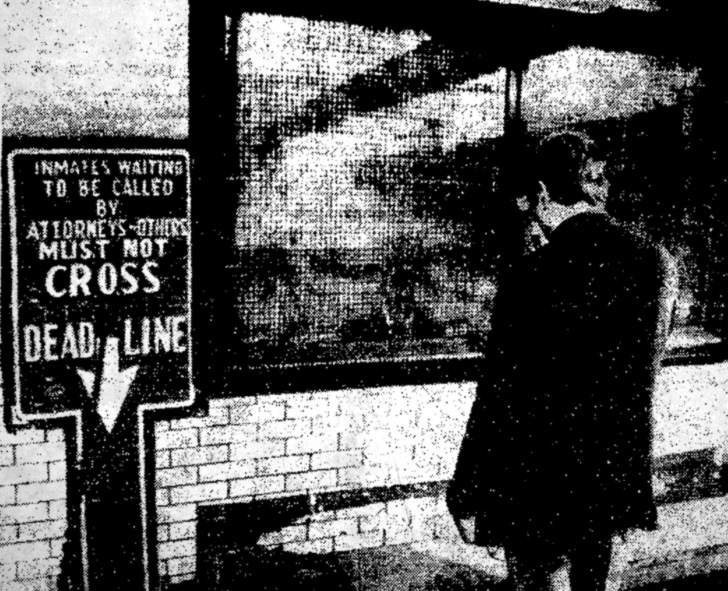 Newsmen inspect wire screen Manson complained about.
LOS ANGELES, Aug. 24 – The judge in the Sharon Tate murder trial ruled Monday that Charles M. Manson is not being harassed in county jail and denied his motion for a "cease and desist" order.
"I've considered all of the evidence and I've personally inspected the facilities," said Superior Court Judge Charles H. Older. "I find no evidence of any harassment and I find that procedures used by the sheriff are reasonable."
Manson, 35, head of a hippie type clan, on trial with three girl disciples in the case, had complained that he had been placed in solitary confinement, had been subjected to frequent skin searches, wasn't receiving mail and had at times been denied pencils and papers. His main complaint was that he was compelled to interview witnesses through a screen which hampered vision and hearing.
Said the judge: "I sat at the screen myself with a person on the other side and I could see." He said he could also read a sign 20 feet away on the other side of the screen and there was no problem in hearing.
"I think under the circumstances of this case the security precaution is reasonable."
In a hearing before the regular court session outside the presence of the jury Manson's attorney, Irving Kanarek, argued that "the only function of the sheriff is to hold Mr. Manson, not to act as an adjunct of the prosecutor…It's whim and caprice — that's the only reason he is forced to interview witnesses at the screen."
Kanarek called Sheriff's Capt. James Cline, who supervises interview procedures at the jail. Cline testified: "As far as I am concerned, all of the future visits will be held at the screen." However, he said he'd be willing to rule on any special requests by Kanarek for use of the attorneys' room for interviews.