New Defense Attorney Named for Manson Girl
Saturday, December 20th, 1969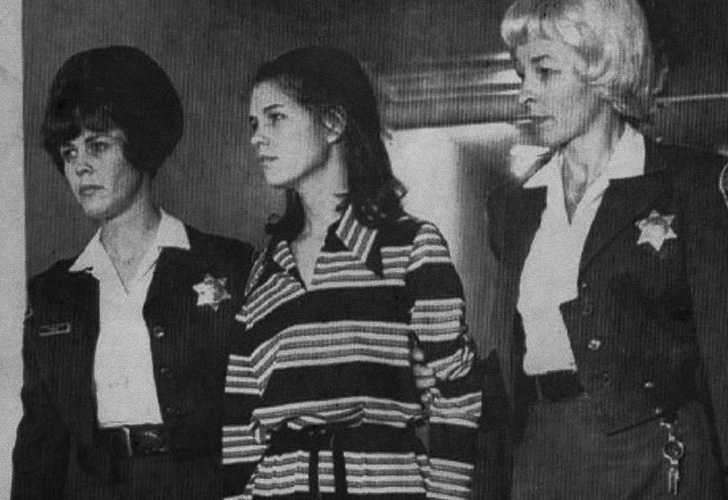 Leslie Van Houten, 19, a member of Charles Manson's "family" who is charged with the murders of Leno and Rosemary LaBianca, is escorted by two deputy sheriffs as she leaves a courtroom in Los Angeles Friday after a brief hearing at which time she was appointed a new attorney. The court appointed Marvin L. Part to represent Miss Van Houten after her previous attorney said she and her family could not pay his fees.
LOS ANGELES, Dec. 20 – A former prosecutor for the state and county was named by a superior court judge Friday to defend Leslie Van Houston, 19, against charges she murdered a wealthy market owner and his wife while a member of the nomadic "Manson Family," other members of which are charged in the grisly Sharon Tate murders.
Miss Van Houten appeared in court for a substitution of attorneys and heard Judge William B. Keene appoint 38-year-old Marvin L. Part to handle her defense.
The pretty teenager, arrested in a raid on the cult's desert ranch commune at the edge of Death Valley, is charged with the murders of Rosemary and Leno LaBianca, who were slain in their home Aug. 10, two days after the Sharon Tate murders.
The leader of the clan, others, not including Miss Van Houten, have been charged with both the LaBianca murders and the five slayings in the Tate home.
Miss Van Houten was ordered to appear in court again Monday with Manson and Linda Kasabian, 20, to be arraigned and to enter pleas.
Part was a deputy state attorney general for a year and a deputy district attorney for Los Angeles County from 1960 to 1966. He is now in private practice and will be paid by the county. Miss Van Houten was previously represented by Donald Barnett, a private counsel.
After Friday's hearing, Part told newsmen he believed his client could get a fair trial in Los Angeles. The attorney for Susan Denise Atkins, 21, the informer who helped in breaking the case, has said he will seek a change of venue because of the publicity about the case.
However, Part says he has not decided on whether or not to seek a venue change or attempt to get Miss Van Houten tried separately. He called the case a "monumental" one which has generated more local interest than the trial of Sirhan B. Sirhan for the murder of Sen. Robert F. Kennedy.
"The public likes to see sex and movie stars and violence," he said.
Miss Atkins already has pleaded innocent to seven counts of murder. Others in the case are in custody out of state. Patricia Krenwinkel, 22, is in Mobile, Ala., where a judge has given her attorney until noon Dec., 29 to either file a protest to her extradition or allow her to be brought here for trial.
The sixth suspect, Charles D. Watson, is in Texas awaiting a Jan. 5 extradition hearing in Houston.