Officer Tells Death 'Threat' by Susan
Monday, February 1st, 1971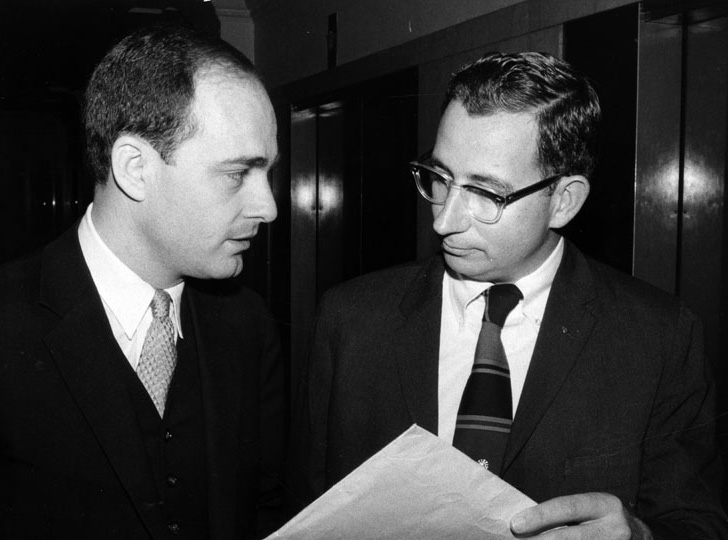 The final prosecution witness in the penalty phase of the Tate-LaBianca murder trial, Cpl. Thomas Drynan (Right) of the Oregon State Police, confers with Deputy Dist. Atty. Vincent Bugliosi.
LOS ANGELES, Feb. 1 – The second and final prosecution witness against hippie leader Charles Manson and three of his girl friends in the penalty phase of the Tate-LaBianca murder trial took the stand today to claim that one of the girls would have killed him if given an opportunity.
Cpl. Thomas Drynan, an Oregon state police officer, told the Los Angeles Superior Court jury that had found the four Manson "family" members guilty of first-degree murder last week, that he arrested Susan Atkins on Sept. 12, 1966 in a remote area east of Salem, Ore.
The girl, he said, was with two men, and all were armed.
Drynan quoted Miss Atkins as saying following their arrest, "If I had the opportunity, I would have shot and killed you."
The three, who were wanted by Oregon police for concealing and receiving stolen property, were also arrested for possession of concealed weapons.
Prosecutors are attempting to show that the girls, Miss Atkins, Patricia Krenwinkel and Leslie Van Houten, along with their leader Manson, are and have been a danger to society, and therefore deserve to die in San Quentin's gas chamber.
The defense, which planned to present a "complete case" in its efforts to save the four from the gas chamber, has been ordered to have its first witness ready this afternoon.
They have indicated that testimony on the defendants' behalf may take 15 or 16 court days.
First witness for the defense will be members of the "Manson Family" who will tell about the cult's life style and peace-loving hippie ways.
Manson himself was reported anxious to testify as was Miss Atkins, who reportedly planned to deny that it was she who stabbed Miss Tate. In her grand jury testimony, Miss Atkins said Charles "Tex" Watson killed the pregnant actress, but in the guilt-innocence portion of the trial, two former cellmates said Miss Atkins told them it was she who wielded the knife.
It was possible Patricia Krenwinkel and Leslie Van Houten also would speak on their own behalf, although lawyers said the two had not made up their minds.
By MARY NEISWENDER