Pair of Glasses Gives Police Solid Clue in Tate Murders
Sunday, October 26th, 1969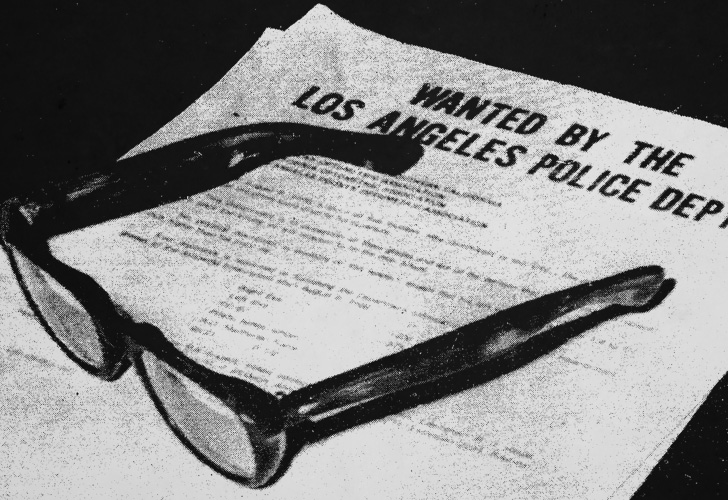 Los Angeles police have disclosed that the killer of Sharon Tate and four others left this pair of glasses at the scene. The flier shown gives a sketchy portrait of killer.
LOS ANGELES, Oct. 26 —The killer of actress Sharon Tate and four other persons left a pair of amber-rimmed eyeglasses at the scene, police revealed Thursday.
Detective Lt. Robert Helder, the man in charge of the investigation, told a news conference police have been able to reconstruct from the glasses a sketchy portrait of the murderer.
He is probably a man between 20 to 40 years old. He has a small head and one of his ears is about a quarter of an inch lower than the other. He is extremely nearsighted.
Helder said there were some fingerprint smudges on the glasses, but no identifiable "ridges" investigators could use to trace their owner.
The glasses were intact, no blood was found on them and there was no hair caught in the frames. Helder said they were "one of the key pieces of evidence" in the murders, but he would not elaborate except to say no murder weapons had been found.
Police still have no motive for the macabre slayings Aug. 9 at the Benedict Canyon estate leased by Miss Tate and her husband, Roman Polanski.
"It could be almost anything," the detective said. "If we could pinpoint a motive, we'd be halfway home."
Helder said police had the glasses analyzed by experts in optometry and determined that they were inexpensive, had a popular American-made frame and a "not highly unusual" combination of lenses kept by many optometrists in "bins" in their offices.
Helder said it was his opinion the killer lost the glasses while struggling with one of the murder victims. He said the assailant, because of his nearsightedness, probably left quickly.
A flier describing the glasses was sent six weeks ago to the 2,968 members of the California Optometric Association, the Chicago headquarters of the American Optometric Association with 15,000 members, the Los Angeles City Optometric Society and the Ophthalmologists Society of Southern California.
Helder said police have received no replies from anyone remembering prescribing similar glasses.