Pal Says Manson Didn't Believe in Right or Wrong
Friday, October 16th, 1970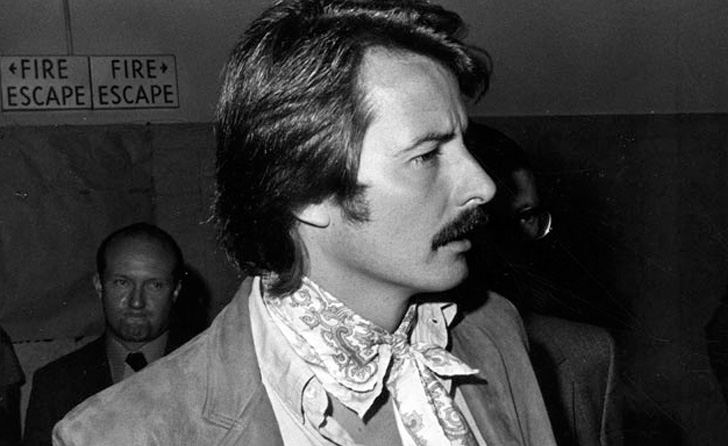 Prosecution witness Gregg Jakobson was a talent scout who first met Charles Manson about May 1968, at the Sunset Boulevard home of Dennis Wilson, one of the Beach Boys rock group. Jakobson testified that in a period of about a year and a half, he'd had many talks with Manson.
LOS ANGELES, Oct. 16 – Hippie leader Charles Manson believed there was no such thing as right or wrong, and therefore "it wasn't wrong to kill," a one-time friend of his testified today in Los Angeles Superior Court.
Record producer Gregg Jakobson, who took the stand in the Tate-LaBianca murder trial after, a daylong in-chambers session, said his former companion had philosophized with him on many occasions about life, death and "helter-skelter."
"Manson said there was no such thing as right and wrong — it was a concept he didn't believe in. He said he could do no wrong and there wasn't any good or bad.
"He didn't believe in death," the moustachioed Jakobson testified. "He said he had died a long time ago — that he had experienced death many times. He said there was no death — that it was only a physical change of the body and the spirit went on — therefore, there was no such thing as death."
Time and pain, Jakobson said, didn't exist and were both a concept of man, according to Manson. Time, the hippie leader contended, was invention, and pain existed only in the brain.
Manson, the witness said, didn't want anything to do with any current establishment because he felt it was coming to an end.
"The black man was going to rise up and take the place of the white man. What white men were left, and there would be very few, would end up living in the desert."
Jakobson, said he met Manson in May of 1968, and last talked with him a month after the Tate-LaBianca murders, said his friend was "pretty adamant" about what he called helter-skelter.
"It would be an open confrontation between blacks and whites in the streets," Jakobson said, "and the blacks would win."
During the black-while race war, Jakobson testified, Manson would go to the desert with his people.
"He believed there was a bottomless pit in Death Valley which could be inhabited and possibly was inhabited. He intended to live there during helter-skelter."
Jakobson said that Manson believed the blacks would not be able to handle the reins of power and would give it back to the whites that were left alive, who, Manson believed, would be the "Manson family."
Manson, in a holding tank beside the court, listened to Jakobson's testimony via loudspeakers. He came out to a foot-square screen in' an attempt to see the witness several times but the angle was such that Jakobson was not visible.
Manson and his three girl followers — Susan Atkins, Patricia Krenwinkel, and Leslie Van Houten — have been listening to trial procedures through loudspeakers for the past week. They have steadfastly refused to return to court and not be disruptive
By MARY NEISWENDER