Says Cult Girl Told of Stabbing
Tuesday, November 3rd, 1970
LOS ANGELES, Nov. 3 – Slender, pig-tailed Leslie Van Houten smiled and doodled as a crucial witness at the Sharon Tate murder trial linked her directly to the slayings for the first time.
On the stand, pretty Dianne Lake, 17, said Monday that Miss Van Houten, 20, once said she had stabbed a person already dead and "the more she did it the more fun it was."
Miss Lake said another defendant, Patricia Krenwinkel, 22, also confided a role in the Tate killings, saying she dragged victim Abigail Folger from the bedroom of Miss Tate's mansion to the living room.
The two women plus Susan Atkins, 22, are on trial for murder – conspiracy along with Charles Manson, 35, leader of their hippie-style family.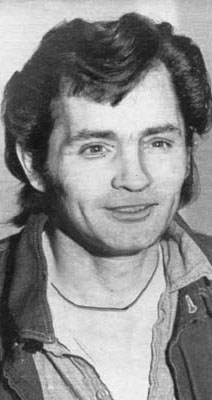 THE NEW MANSON:
For the first time since his arrest nearly 11 months ago, Charles Manson appears with his hair cut and neatly combed as he walks to court today for another session of trial.
The women appeared surprised as Manson arrived for court with his normally shaggy hair cut short. His new style is a duck tail with a long curl falling over his forehead. Attorneys said Manson told them he cut it himself "for his defense" and that he plans to trade his jail denims for a suit when the defense case opens. The state is expected to rest its case later this week, and the defense will open soon after.
Miss Lake said Miss Van Houten confided in her about a month after the August 1969 slayings of Miss Tate and six others. Her description of Miss Van Houten's story closely matched earlier testimony about the slayings of two victims — market owners Leno and Rosemary LaBianca.
Miss Lake said the brunette Miss Van Houten told her of stabbing a person already dead, of wiping fingerprints off lamps and other items touched by the killers, of helping herself to a snack from the refrigerator and of taking food along for the trip back.
The testimony in the trial's 21st week, was the first to directly implicate Miss Van Houten, against whom there is no physical evidence.
Another defendant, Charles "Tex" Watson, is reported to be eating well and "getting the same treatment" as other patients at a state mental hospital.
Watson was sent to Atascadero state hospital in an ambulance last Friday from the Los Angeles County Jail after court-appointed psychiatrists described him as insane and in danger of dying from not eating.
L. C. Wayne, hospital administrator, said Monday that the 6-foot-2 Watson, whose weight had reportedly dropped from 160 to 110 pounds, is sitting up in bed and eating solid foods.
Watson was arrested in Texas and fought extradition to California for eight months. He has never been arraigned on murder-conspiracy charges stemming from the deaths of Miss Tate and six others in August 1969.