Two more slain in Los Angeles
Monday, August 11th, 1969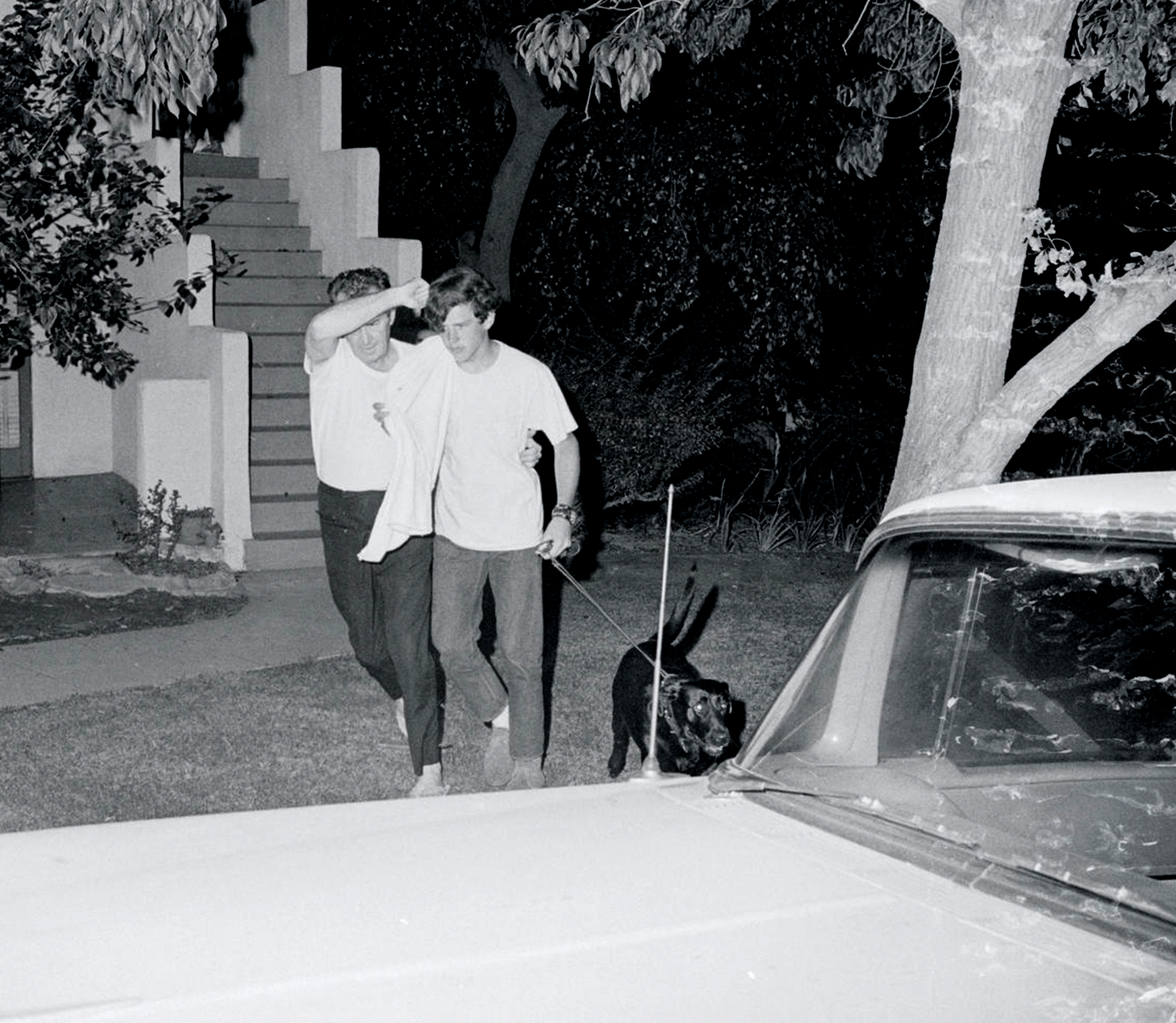 FRANK STRUTHERS, 14, (right), is shown being led from a neighbor's home to an awaiting auto by his father after the boy discovered the bodies of his mother, Rosemary, and his stepfather, Leno LaBianca, in their Los Angeles home.
LOS ANGELES, Aug. 11 – A middle-aged couple was stabbed to death yesterday in their home. Police said the words "death to pigs" were smeared in blood on the door of the refrigerator in the kitchen and the word "war" carved on the chest of the male victim.
There were striking similarities between the double murder and the mass murders of actress Sharon Tate and four other persons Saturday.
Leno LaBianca, 44, owner of a market, was found, a carving knife protruding from his chest, lying in the living room of the rambling, ranch-style home.
Detectives said early today the word "war" was carved on his chest along with several "Xs." A hood, believed to be a white pillow case, was over his head, secured with a knotted electrical cord.
IN THE BEL AIR slayings, the word "pigs" was scrawled in blood on the front door of the Benedict Canyon home, and one of the five victims, hair stylist Jay Sebring, was found with a black hood over his head.
LaBianca's wife, Rosemary, 38, owner of a boutique in the Wilshire business district, was found in the master bedroom. Police said she had been stabbed numerous times with a bayonet-type weapon.
She was face down in the bed, clad in a sheer negligee. An electrical cord bound her neck.
The latest slayings were in the upper-middle-class Silverlake district of Los Angeles, about 15 miles across town from Miss Tate's estate in Benedict Canyon.
POLICE INSPECTOR K. J. McCauley told newsmen he did not believe the slayings were related.
Nonetheless, the parallels were close, the words written in blood, the hoods, the numerous stab wounds, the cords around the necks of the victims, and the apparent lack of robbery as a motive.
And a policeman said the same technique was used to write the words — the heel of the hand dipped in the blood of the victims.
McCauley, who replied "no comment" to most questions, said the LaBiancas were last seen alive at 1 a.m. yesterday when they dropped off a step-daughter, Susan Struthers, 19, at her home after they returned from a boating trip.
LaBianca's stepson, Frank, 14, was left with friends during the outing. He made the grisly discovery of the murders when he returned home shortly before midnight last night.
BOTH CHILDREN are those of Mrs. LaBianca by a previous marriage.
None of the neighbors in the upper-middle-class residential area heard unusual noises from the home, which is separated from surrounding dwellings by a wall on one side and a yard on the other.
Police sealed off the home which is fronted by a manicured lawn and a waist-high hedge.
One woman, a neighbor, said "I didn't hear a thing. The dog had been barking but that wasn't unusual."
Asked for her name, she said, "I'm not going to give my name out after all these murders."
By DONALD THORNTON