Watson Declared Sane, Must Stand Trial
Friday, February 5th, 1971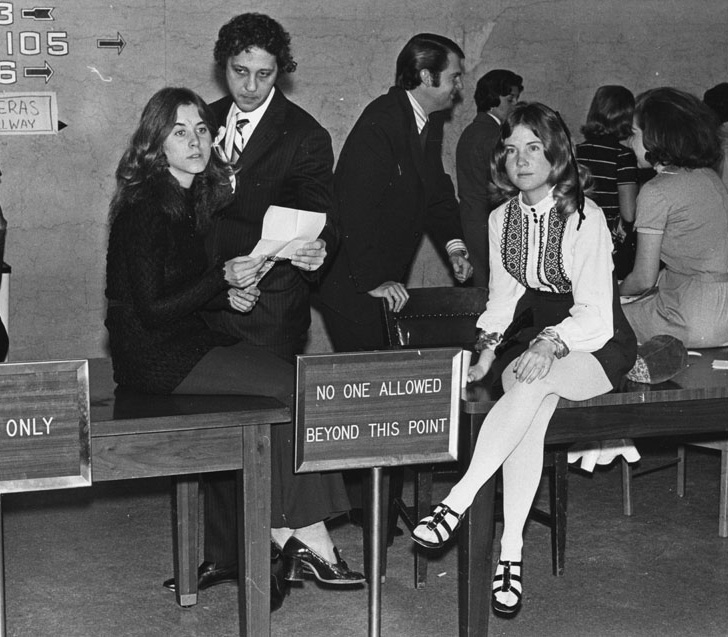 LEFT TO RIGHT: Brenda McCann, Attorney Paul Fitzgerald and Sandra Good preparing for court Tuesday.
LOS ANGELES, Feb. 5 – Charles "Tex" Watson, the man the state claims is hippie leader Charles Manson's "head zombie" and the chief executioner of the Tate-LaBianca murder victims, has been declared sane and will be "returned immediately to Los Angeles to stand trial, announced Thursday.
As Watson's name and activities while a member "of Manson's "family" were being discussed on the eighth floor of the Hall of Justice in the penalty phase of the Tate-LaBianca trial, Dist. Atty. Joseph. Busch Jr. called a hurried press conference on the sixth floor to announce Watson's condition.
The 26-year-old Texan was indicted with Manson and four of his girl followers in December 1969 but successfully fought extradition from his native Texas for 10 months. He returned to Los Angeles on Sept. 11, and on Oct. 39 was adjudged insane and committed to Atascadero State Hospital.
In the month and a half he was in Los Angeles, he had lost almost 50 pounds "and doctors feared he might die before reaching the state institution.
Busch told newsmen that "Watson would probably be arraigned "in a few days" and was being brought to Los Angeles "immediately." The trial, he said would take place "as soon as possible."
Meanwhile, Watson's name continued to crop up at the trial as the third loyal "family" member continued today to testify about the group's activities before the murders.
The trial opened dramatically today with a hearing on two motions by Manson's attorney, Irving Kanarek, which so ired Los Angeles Superior Court Judge Charles Older that he called the counsel's action "reprehensible."
Kanarek's motions included one claiming that a woman juror, Evelyn Hines, was so shaken by, the responsibilities that she had "taken to drink" and was therefore unable to adequately serve on the panel.
County Counsel Lee Barker contended that affidavits of bailiffs said that no juror had been allowed to drink liquor any day until dinner time, and then some had one or perhaps two drinks.
Kanarek attempted to introduce a film which appeared on television quoting the woman's husband as saying his wife would, in effect, not have an "independent" vote because of her condition.
Judge Older, obviously angered, said the motion was "filed maliciously in an attempt to injure this woman's name." He contended there was "not the slightest evidence to support this action" and claimed Kanarek's action was "reprehensible."
Earlier, Kanarek had charged the judge perhaps had a "vendetta" against him or disliked him or his client in denying his request to show the film.
Kanarek's second motion was denied without comment by Judge Older. In it he claimed the jury was being prejudiced by a "police state atmosphere" which he said surrounds the Hall of Justice.
Thursday, Sandra Good, the daughter of a San Diego stockbroker and considered the "aristocrat" of the Manson clan, startled the courtroom when she admitted, under questioning, that she had "dated" a prosecutor in the case, Dep. Dist. Atty. Steven Kay.
The blue-eyed blonde, testifying in an attempt to save Manson and his three girls – Patricia Krenwinkel, Susan Atkins and Leslie Van Houten – from the gas chamber, at first hesitated in admitting she knew the handsome young attorney. Finally she said: "He was a good friend of my mother's…she set me up with a blind date with him when I was very little."
The girl did not elaborate because of objections from chief prosecutor Vincent Bugliosi.
However, the girl later told newsmen that she was "about 14" when the date was set up with Kay, a year her senior, and they went to a "pancake house."
Kay, who squirmed nervously in his seat at the counsel table during the questioning, later smilingly admitted to newsmen that it was true.
Earlier, the girl testified that when she first joined the "family" at the Spahn Ranch, she had "a lot of money."
"I had a bank account in Minnesota and stocks. I withdrew the money in my account and sold my stock and gave it to Charlie…and some to Brenda…and George (Spahn, owner of the ranch) needed $800 to pay a hay bill…and Charlie gave some to a hitchhiker and some to the Fountain of the World (a religious order with headquarters mar the ranch). I gave a couple of thousand to Tex to buy a dune buggy and we bought tapestries and stuff," she said.
The bank account amounted to $6,000 and the stocks brought another $5,000, she said.
"Whatever money we had, we went through immediately. Whoever needed it, we'd give it to them."
The girl, wearing an "X" carved into, her forehead, said that it was difficult at first to give away the money and her other possessions because, she said, she had been taught to "worry about security."
She forgot about security and other inhibitions soon after coming to the ranch.
"I didn't want to have babies until I came to the family," she said, "because women nowadays don't want to have babies, they want to have jobs. But babies are the only hope for this world."
By MARY NEISWENDER