Watson's Mother Says Son Fine 'Til He Went To California'
Wednesday, September 1st, 1971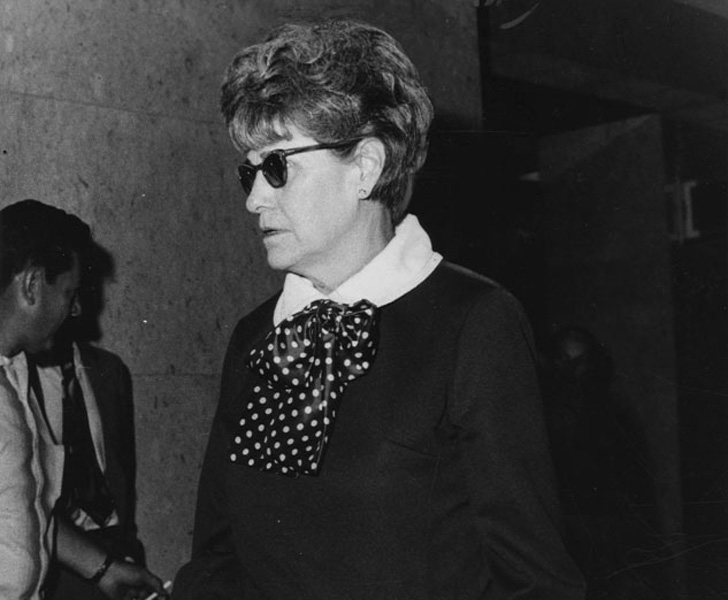 Elizabeth Watson, mother of Charles (Tex) Watson leaves the courtroom yesterday
LOS ANGELES, Sept. 1 — Charles "Tex" Watson was the pride and joy of his family until he went to California, met Charles Manson and underwent a drastic personality change, says his mother.
Elizabeth Watson of Copeville, Tex., her eyes hidden behind dark glasses, testified Tuesday as a defense witness at her son's trial. He is charged with the savage slayings of actress Sharon Tate and six others in August 1969, for which Manson and three others were sentenced to death in an earlier trial.
"He always went out to be best," said Mrs. Watson, "and almost always was."
She told of Watson's high school years as a star athlete, "and he was voted the class favorite, belonged to the Spanish club, was sports editor of the paper, a yell leader, had a part in the senior play, won a prize for playwriting and was an honor student," she said.
In high school, she said, Watson suffered three head injuries, but none seemed to harm him permanently.
Then inexplicably, after three years of studies at North Texas State College, he dropped out and left for California. That was in 1967. In 1968 she visited him in California and he seemed fine — "we played canasta and other games. He was the same old Charles."
But contact diminished between family and son. When he finally called on Aug. 20, 1969, she says, "it was funny. He sounded like he was floating on a cloud. He talked about a man called Jesus who was named Manson." She added, "I didn't know what to think of him."
The slayings occurred Aug. 9 and 10, 1969.
Two months later he called asking for money to come home, Mrs. Watson said, and he told her, "Manson took everything he had."
Of his homecoming, she said: "I certainly wouldn't have known him then. He laughed and slapped himself, as though he was on a cloud. I didn't know anything about dope. People in our little town don't have anything to do with dope."
The defense claims Watson, under the influence of hallucinogenic drugs, killed at Manson's command. Watson has pleaded innocent and innocent by reason of insanity.
Manson, 36, leader of a nomadic hippie-style clan, was sentenced to death earlier this year along with three women followers after being convicted of the Tate slayings. Witnesses at their trial said Watson was Manson's chief lieutenant and leader of the murder parties. The three women testified that Watson was drugged when he killed.
Because of a long extradition fight, Watson didn't stand trial with the others and, when he arrived in Los Angeles, he spent several months in a mental institution.
At the trial, Watson, 25, seemed unaware of his mother's presence and sat open-mouthed, staring straight ahead. They didn't speak.
"When I saw him last Saturday he acted like he wasn't very proud to see me," said Mrs. Watson. "I don't know why."