Monthly Archives:
February 2013
Sunday, February 10th, 2013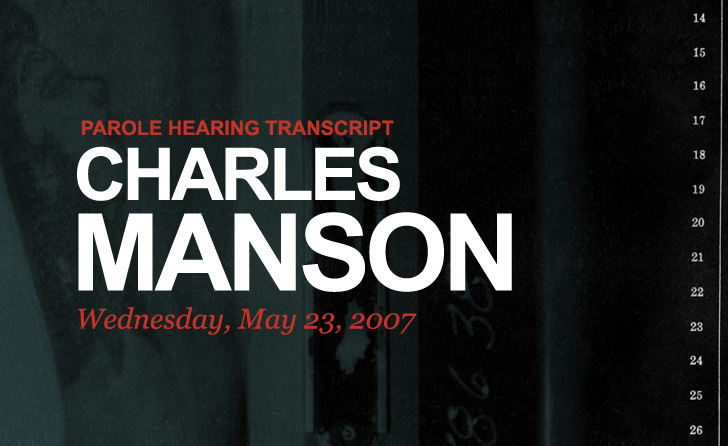 Feb. 10 – On Wednesday, May 23, 2007, a California parole board took an hour and a half to find Charles Manson unsuitable for parole for the 11th time, at a hearing held at Corcoran State Prison in Corcoran, California.
Manson, who refused to attend his 2002 hearing, once again did not attend the hearing.
According to a counselor's report, "Manson was given the opportunity to review, check appropriate boxes, and sign BPH documents for this BPH hearing. He refused to sign documents which dealt with waiver of rights to attend hearing, waiver of postponement of hearing, Central File review, and consent for attorney to examine records. Subject stated he considers himself a prisoner of the political system, and his appearance before the Board is questionable."
Friday, February 1st, 2013
Feb. 1 – Los Angeles County District Attorney Jackie Lacey strongly urged Governor Jerry Brown to reverse a decision to grant parole for Manson family member Bruce Davis, in a letter sent last Thursday.
Davis, 70, is serving a life sentence for the murders of Gary Hinman and Donald "Shorty" Shea, and has been in prison since April 21, 1972. Last October, a parole board granted Davis parole for the second time in as many hearings.
Starting Monday, Governor Brown will have 30 days to reverse, modify or confirm the board's decision.
Included with Lacey's letter were two additional opposition letters from the first wife and the daughter of Donald "Shorty" Shea.
Jackie Lacey was elected Los Angeles County District Attorney last November, becoming both the county's first female and first African American District Attorney. Lacey has been with the District Attorney's office since 1986.