Category Archives:
Uncategorized
Tuesday, March 19th, 2013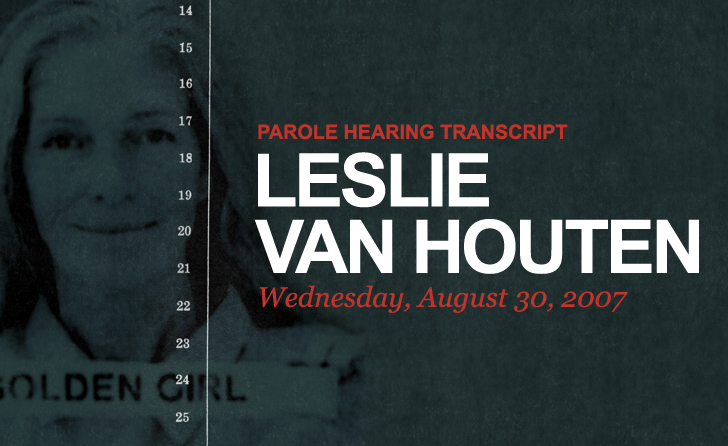 Mar. 19 – On Wednesday, August 30, 2007, a California parole board found Leslie Van Houten unsuitable for parole at a hearing held at the California Institution for Women in Corona.
Deputy District Attorney Patrick Sequeira, representing Los Angeles County, argued that for decades, Leslie Van Houten had minimized her role in the murder of Rosemary LaBianca.
"Whether it's the LSD defense, whether it's Charlie made me do it, whether it's Tex made me do it, whether it's Patricia Krenwinkel made me do it, these are all consistent games with her," said Sequeria. "She dodges every issue every time. And I think this Panel will see, in looking at the entire scope of the evidence in this case, that the factors of unsuitability far, far outweigh any factors of suitability for this inmate, and I'd ask the Panel to find this inmate unsuitable for parole at this time and to make it a multiple denial."
Christie Webb, attorney for Leslie Van Houten, told the board her client was temporarily ill at the time of the crime and that decades of psychiatric evaluations revealed Van Houten had no personality disorders and was unlikely to commit another violent crime.
"Please give her that second chance," pleaded Webb. "She's already served double the maximum time in your regulations for these offenses. There's nothing more she can do to make herself more suitable. She can't change the offenses."
Louis Smaldino, nephew of Leno LaBianca, thanked the board for the opportunity to voice his family's objections, but expressed frustration at the frequency of such hearings.
"We as a family are never able to share a holiday in the family's home where these murders took place, or see the bright eyes of Leno and Rosemary again," Smaldino told the board. "Never again for us. What Miss Van Houten did was permanent."
The board praised Van Houten for her positive post conviction achievements, but said they did not outweigh the factors for unsuitability. Van Houten's parole was denied for two years.

Leslie Van Houten
Leslie Louise Van Houten was born on August 23, 1949 in Los Angeles, California. She and her older brother grew up in a typical middle class household. Leslie's father Paul was an automotive auctioneer, and her mother Jane was a schoolteacher. After Leslie, there were two more additions; the Van Houtens adopted a young boy and girl that had been orphaned in Korea. In 1963 Leslie's parents divorced, Paul moved out and the children stayed with Jane. Meanwhile, Leslie began attending Monrovia High School, where she was twice elected homecoming queen. Like many at the time, she discovered hallucinogenic drugs, and her grades soon started to slip. She drifted away from her extracurricular activities, and shortly after, got pregnant and had an abortion.
…Learn more