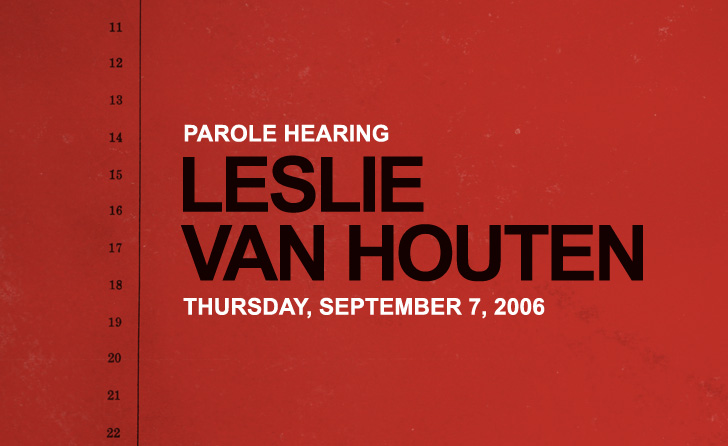 Opposition letter from Cory LaBianca, read by her cousin, John DeSantis, at Leslie Van Houten's 2006 Parole Hearing
My name is Cory LaBianca, and I am the eldest daughter of Leno LaBianca. Rosemary LaBianca was my stepmother for 11 years. I was 21 years old at the time of their deaths and I loved them both dearly. My cousin, Lewis Smaldino and John DeSantis, have graciously appeared at these parole hearings, representatives of the entire LaBianca family. In my eyes, they are angels. John has offered to read my letter to you today.
The house at 3301 Waverly Drive is in our — in our family for years. Since 1940, when my grandfather and grandmother, Anthony and Corina LaBianca bought it for their growing family. A solidly-built, white stucco house with a red tile roof, stood upon an acre of high land in the Los Feliz hills of Los Angeles. It was a modest two-bedroom home. But the ceilings in every room are decorated with (inaudible) intricately painted scroll work and the grounds reminiscent of a miniature Italian villa. The sweeping front lawn was our Thanksgiving Day rolling (inaudible), where my cousins and I would race each other rolling; rolling sideways to the bottom of the hill. We played hide and go seek in a side yard. A well-manicured rose garden maze like the Queen's Garden in Alice in Wonderland. The sloping backyard was filled with trees that only my older cousins, boy cousins, were allowed to climb fully mature walnut, persimmon, apricot, fig and one huge mulberry. That mulberry tree covered the ground with its ripe fruit and I loved to mischievously squish those dark, juicy berries into the cement with my bare feet, knowing I would get a mild scolding from Papa Anthony if he caught me. The wine cellar beneath the back porch was off limits, and when nobody was looking, my little brother and I would creep open the rickety old wooden door and climb into the dark dankness of forbidden space, just to count the wine bottles and finger the spider webs. Sometimes we would get to stay overnight at our grandparents' house. And in the early morning, Nana Corina would wake me and we'd walk to the bottom of the hill to admire her morning glories. The blue violet, funnel-shaped blossoms were mixed in with the ivy that blanketed the slope next to the road, and were always the first thing I'd seen from the car window when we came to visit. See how they open with the sun, Nana would say, cupping the flower gently in her hand. Aren't they pretty. And then we would turn and walk slowly up the long driveway to the house. This was our family home, our grandparents' home, the place where I and all my cousins have wonderful memories.
But on the night of August 10th, 1969, those memories were fractured when a band of strangers invaded our home and killed my parents, who were living there at the time. Can you imagine how we must feel having that nightmare interwoven with our most cheeriest childhood memories? We can do nothing to change the events of 37 years ago or to erase those horrible memories from our hearts and minds. But you, the Parole Board, can make certain that we don't have to bear more. I ask you, please, do not make a mockery of what we love with your decision here today. Your rule — Your ruling will have an impact on all our lives.
Sincerely,
Cory LaBianca