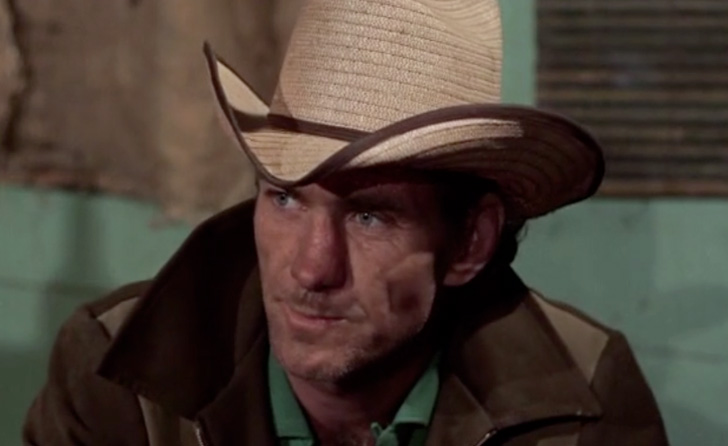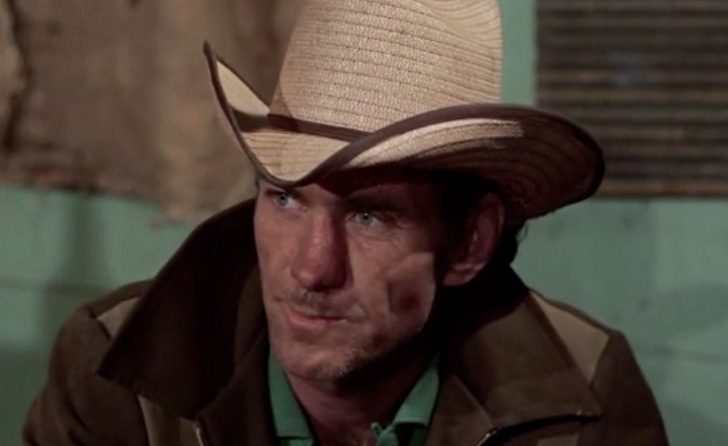 Bill Vance drinking in the Longhorn Saloon in the film Linda and Abilene
Jun. 21 – The Lost Films of Herschell Gorden Lewis, a 2-disc BluRay/DVD combo pack released in January, features three recently restored sexploitation films including the erotic western Linda and Abilene. Filmed at the Spahn Movie Ranch in 1969, Linda and Abilene tells the story two siblings, Abilene and Tod, who after being orphaned on their western farm, become attracted to each other. The confused Tod fleas to a nearby town where he meets Linda, a local bar girl, and begins a sexual relationship with her, while a rough cowboy, named Rawhide, sexually assaults Abilene leading Tod wanting revenge despite Linda's wariness and growing compassion for Abilene.
The movie, which features fantastic color footage of Spahn's Ranch, was filmed while the Manson Family was living there. According to liner notes, "Lewis claims that he and the crew 'thought little or nothing of' the unusual people hanging around the location, even when seemingly the entire Family showed up on set to peep on the lesbian sex scene as it was being filmed. They were just a bunch of 'goofy kids…stoned out of their heads,' according to Lewis."
But perhaps the most interesting thing about the film is that it stars the Manson family associate, Bill Vance. Although he has no lines, Vance is a prominent extra within the film and there are several close ups of him.
The film also provides possible answers as to why some at Spahn would later say that Sharon Tate had visited the ranch. Shortly after the Tate-LaBianca murders were tied to the Manson family in December of 1969, there were reports that an actress named Sharon had visited the ranch earlier that year. This led to the speculation that the actress was Sharon Tate. Perhaps Linda and Abilene was the cause of the confusion, because the part of Abilene is played by the actress Sharon Matt. Could she have been the actress that some at Spahn would later confuse to be Sharon Tate?
Special thanks to BlueJay for finding this.