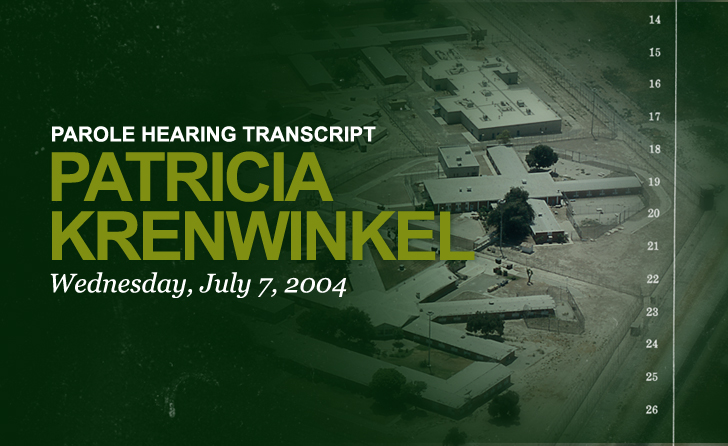 Jan. 9 – On the afternoon of Wednesday, July 7, 2004, a California parole board found Patricia Krenwinkel unsuitable for parole at a hearing held at the California Institution for Women in Corona.
Relatives of Sharon Tate, Jay Sebring and Leno LaBianca attended the hearing along side of Deputy District Attorney Stephen Kay, all of who opposed Krenwinkel's release.
The panel review revealed Krenwinkel to be a model prisoner with no write ups. She excelled in many of the prison programs and was praised as an excellent worker. But an unfavorable psychiatric report overshadowed her positive post-conviction record.
"She has yet to demonstrate an insight regarding her actions," wrote the examining psychiatrist, Dr. Peter Hu. "She has yet to demonstrate remorse or regret for her actions and has not been able to recognize the loss that the victims' families suffered over the years."
Krenwinkel's lack of insight was evident in the hearing itself. When Comissioner Al Angele asked Patricia about the 12 steps program – in particular, step eight, people who she has caused harm to.
"And who is on top of the list?" questioned Angele.
"Probably myself, first," responded Krenwinkel.
Krenwinkel was denied parole for three years. It was her 12th appearance before the board.

Patricia Krenwinkel
Patricia Dianne Krenwinkel was born on December 3, 1947 in Los Angeles, California. Her parents divorced when she was 17 years old. At the time, Pat stayed in California with her father – an insurance agent – while her mother moved to Alabama. After High School, Pat moved to Alabama to live with her mother and attend a Catholic college. She had taught Sunday school in the past, and had thought about becoming a nun. After only one semester, Pat had enough and dropped out. She moved back to California, where she moved in with her half-sister Charlene, and got a job as a processing clerk. In September of '67, she met Lynette Fromme, Mary Brunner, and Charles Manson on Manhattan Beach. After making love with Charlie, Patricia decided to go with him and the girls to San Francisco, leaving her car and final paycheck behind.
…Learn more