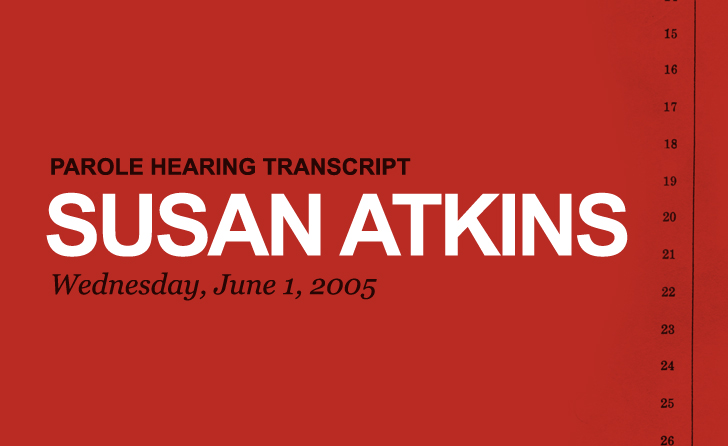 May 6 – On Wednesday, June 1, 2005, a California parole board found Susan Atkins unsuitable for parole stating she needed "further therapy in order to develop insight into the commitment offense and the underlying cause of the offense."
The hearing, which was held at the California Institution for Women in Corona, California, was attended by relatives of Sharon Tate and Jay Sebring, who along with Deputy District Attorney Patrick Sequeira voiced their opposition Atkins' release.
"[Susan] was involved in brutal murders," Los Angeles County Deputy District Attorney Patrick Sequeira told the parole board. "She continues to minimize her conduct. She does not have a true understanding of what a horrible murderer she is."
Atkins' husband/attorney, James Whitehouse, presented the board with a lengthy account of Susan's post-conviction and parole history, arguing that she has been suitable for release for decades.
Atkins herself spoke to her suitability and read support letters from her neice, brother and a fellow inmate.
"I know that each family member here every day, they miss their loved one," said Atkins. "Every second and every minute and I cannot give that back to them. I cannot take that pain away from them. I caused that pain. I wish with all my heart and I pray with all of my soul that one day they will be able to heal."
Sharon Tate's sister Debra Tate, and Jay Sebring's sister and nephew, Margaret and Anthony DiMaria made victim impact speeches to the board, detailing the how the murders devastated their families.
Jay Sebring's nephew described how the murder of his uncle dealt his family an unimaginable loss and unbearable suffering.
"The press following the slaughters was deplorable and in many ways was as repulsive as the murders themselves," said DiMaria. "The exploitation and lies were lurid. It was impossible for us to imagine that uncle Jay, after being shot, stabbed and beaten to death, would be butchered again in the media as he lay defenseless in his grave. Sadly, each of the victims suffered the same malice."
Patti Tate's daughter, Marie, also attended, but did not speak on the record.
Susan Atkins was denied parole for four years. The hearing marked Atkins' 12th parole denial since becoming eligible in 1976.

Susan Atkins
Susan Denise Atkins was born in California on May 7, 1948. Her mother was afflicted with cancer and died when Susan was still in her teens. Constantly fighting with her alcoholic father, Susan decided to hit the road; dropping out of school and moving to San Francisco. She got a job as a telemarketer for a company that sold magazine subscriptions, rented a room and soon found herself poor, lonely, and depressed. She eventually quit her telemarketing job and started waiting tables at a local coffee shop.
…Learn more