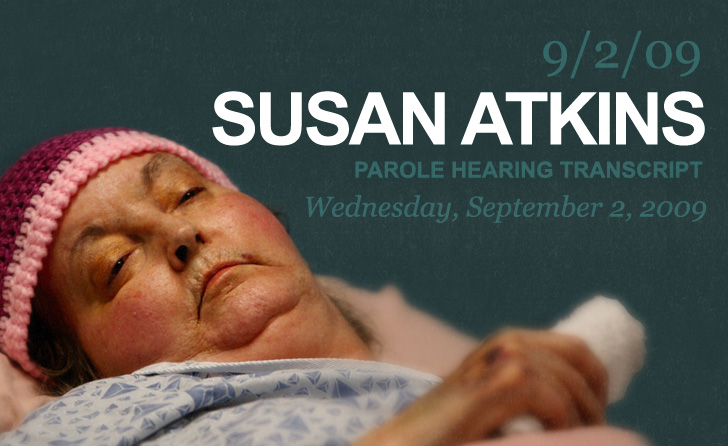 Sept. 13 – Just after 8 p.m., on September 2nd, 2009, Parole Commissioner Tim O'Hara told James Whitehouse that the latter's wife, Susan Atkins, was "not suitable for parole because the inmate currently poses unreasonable risk of danger if released from prison."
O'Hara and Deputy Commissioner Jan Enloe had deliberated for an hour after listening to four hours of arguments, for and against, the parole of Susan Atkins.
Atkins, paralyzed by brain cancer, slept through most of the hearing on a gurney. Her only participation came when her husband/attorney, James Whitehouse, helped her recite Psalm 23.
Patrick Sequeira argued against parole for the Los Angeles District Attorney's Office. While members of Jay Sebring's family and Debra Tate made statements on behalf of their loved ones.
Susan was given a three year denial, the minimum parole denial period under Marcey's Law.
Twenty-two days later, late in the evening of Thursday, September 24th, Susan Atkins passed way.
While parole denials and Manson family members go hand in hand, Atkins' death bed denial likely means most of those connected to the Tate-LaBianca killings will die – as their original sentences intended – within a California prison.