Manson Admits Visiting Tate Home '5 or 6 Times'
Saturday, October 24th, 1970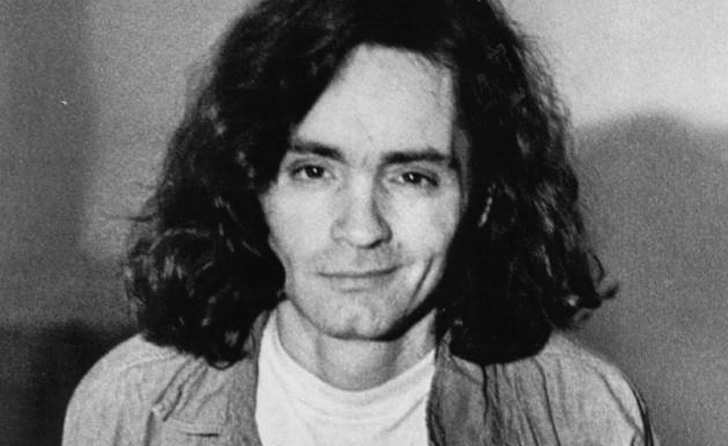 UNBEARDED MANSON: Charles Manson appears in court minus his beard. It was the second time since his arrest that he has shaved off his beard.
LOS ANGELES, Oct. 24 – A prosecution witness Friday "bordered on" giving hippie cultist Charles Manson an alibi for the nights of the Tate and LaBianca murders, drawing an audible gasp from not only the spectators and press that jammed the courtroom, but from prosecuting attorneys.
However, moments later, Manson himself, calmed the prosecutor's fears when he admitted from the witness stand that he had been at the Tate murder house "on five or six occasions."
The fact, which emerged when the hippie leader took the stand in a related hearing — without the jury present — was something the prosecution admittedly didn't know. Previous witnesses have placed Manson — or someone similar — at the Benedict Canyon home three times.
Manson's testimony came in a hearing as to whether the testimony of a Los Angeles Police Officer, Sidney J. Nuckles Jr., should be admitted before the jury. Nuckles quoted Manson as saying when shown a diagram of the Tate home, "I've never been at the residence."
Manson contends the quote was "I've never been in the residence."
Defense attorneys claim the testimony shouldn't be admitted because it violated Manson's rights, since the statement was made while he was serving as his own attorney.
On the stand for the second time — the first was when he was attempting to show he was being harassed in jail – Manson said that although he didn't remember when the conversation happened — "I don't know March from December" — he recalled that Deputy District Attorney Aaron Stovitz, attorney Daye Shinn, Nuckles and he were present
"We were talking about someone coming in a rear window of the house and I said, 'I've never been in the house.' Stovitz smiled and said, 'Oh, you know where the bedroom is — or the window' indicating 'You're not fooling me." Then Manson added: "I pride myself on truth — even when it hurts.
"I've been at that residence on five or six occasions, but I've never been in the house."
Earlier, 18-year-old Stephanie Schram, a former Manson "family" member, told the seven-man, five-woman jury that the long-haired sex guru "promised not to leave my side for two weeks" and kept his promise. The "two weeks" was during the time of the killing of five persons at the home of actress Sharon Tate and the killing of Rosemary and Leno LaBianca the following night.
Wearing Levis and a white shirt, the long-haired Anaheim resident smiled frequently at Manson and his three girl followers — Susan Atkins, Patricia Krenwinkel and Leslie Van Houten — on trial with him for the mass murders.
"Do you know Charles Manson," Deputy District Attorney Vincent Bugliosi asked.
"Yes," the slim brunette answered turning to smile broadly at Manson seated in the counsel table.
"I met him the morning of Monday, Aug. 3, just south of Big Sur. I was with a friend of mine in a gas station and got out to go to the restroom.
"When I got out we started talking and he asked me if I wanted to come with him to see Big Sur for a few days. I did."
Continuing to smile broadly at Manson and the three girl-defendants, the girl testified she immediately left her boy friend and went with Manson to Big Sur for the next three days. She came back to Los Angeles, she said, and became a member of Manson's "family," living at the Spahn Ranch in Chatsworth.
"We stayed at the ranch just a day and a half," she said, "then decided to go to San Diego…so I could get some clothes and stay at the Ranch. We got a little way, but decided not to go until the next day — so we slept in the truck."
She and Manson returned to the Ranch the afternoon of Aug. 8, she said. The Tate murders were committed the night of Aug. 8 or early morning Aug. 9, the prosecution contends.
Under cross examination, and still smiling broadly at the defendants, the girl said Manson was "with me the evening of Aug. 8."
"Charlie woke me up a little before dawn on Aug. 8 and we went to Devils Canyon and stayed there two weeks. Charlie was with me most of the time — a few times I didn't know where he was," the girl said.
On Aug. 9 — the night of the LaBianca murders — she said she was with Manson at Devils Canyon, but "when it got dark he left — he came back either late at night or early in the morning — I was asleep."
At one point she said, she got homesick and discussed it with Manson. "I made Charlie promise not to leave my side for two weeks."
"And did he keep his promise," chief defense counsel Paul Fitzgerald asked.
"Yes more or less," she answered, still smiling at Manson.
She became homesick again, she said on redirect examination, when she was with the family at the Barker Ranch in Death Valley.
"I was sitting down with a rifle across my lap," she said candidly, "when Charlie asked if I was homesick. He said he'd give me one more chance to go home. I said, 'yes' that I was homesick and would like to go home.
"He took the rifle and hit me across the head with it…I guess he knocked me down a couple of times and told me I'd better forget about going home," she said, turning towards Manson and smiling weakly.
By MARY NEISWENDER